The commander of the U.S. 5th Fleet recently detailed how the U.S. Navy and its allies in the Middle East are planning to collectively have 100 unmanned surface vessels (USVs) operating in the region by next summer.
"Our goal is that…at the end of the summer of 2023, we will have grown to a hundred USVs throughout the Middle East. And I think a critical point of this is probably to describe what that looks like: about 20 percent of that will be U.S. but 80 percent of it will be partners," Vice Adm. Brad Cooper, commander of 5th Fleet, told reporters during a media roundtable on October 12.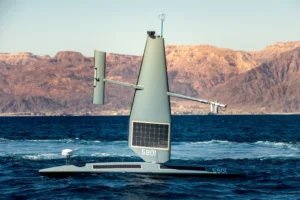 He clarified the concept is that each of the U.S. partners have their own systems. While the U.S. will lead the way and "we will certainly model how this will work out with the details, but it's the partners who themselves are investing in technology and they all see the value."
5th Fleet announced its 100 USV international force goal earlier this year. Cooper said that by November the Navy plans to have fulfilled its part of committing 20 USV platforms to the region.
In August, Chief of Naval Operations Adm. Mike Gilday said the U.S. goal is to have 100 USV platforms operating together in a mesh network throughout the Middle East region (Defense Daily, Aug. 29).
Cooper said the U.S. USV capabilities are generally divided into the slower long-lasting Saildrone USVs that can operate for upwards of 200 days and the MARTEC Devil Ray USVs that travel fast at up to 100 knots for more immediate response.
He said the other 80 percent will be spread between other partners in the region, with the first two committed being Kuwait and Bahrain.
"It will be up to them what type. I think they're generally going to fall in those two categories. And broadly speaking, we are on track to achieve that goal here by a year from now," Cooper said.
He was unwilling to say how many total partners the U.S. expects to contribute to this USV force, but he underscored each partner will be able to decide on their own how and if to meet the challenge.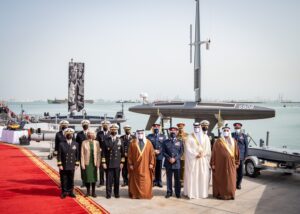 "The point is, we want to make sure each of the partners has their opportunity to voice intent. It's a decision by them, not us, a decision by them on which ones require contractually to produce, buy."
Cooper said the impetus for this strategy is that expanding maritime domain awareness via using unmanned assets and artificial intelligence to find potentially irregular activity among the tens of thousands of vessels regularly traveling around the waters of the Middle East means "increases deterrence and allows you to better position yourself to respond when something does happen."
He noted the Navy has been operating these USVs and AI systems for about 25,000 hours, which equates to 12 years of regular work week hours.
Cooper noted the U.S. 5th Fleet has continued operational demonstrations with almost every partner in the region and noted the recent USV demonstration with the U.K. Royal Navy in a one-day exercise called Phantom Scope. (Defense Daily, Oct. 7).
Cooper said he expects the final 100 international USV force to be a mixture of Saildrones, Devil Rays and new systems.
"One of the north stars of Task Force 59 in particular, is we're always looking to take the latest and greatest of what's out there and implement that. What's the best? What's the best in breed that the United States can produce? And then other partner nations will choose what's best for them. I think in many cases, it will be U.S. USVs because we have, I believe…we have the most capable that are out there. But if they go with another country, that will be an individual partner decision."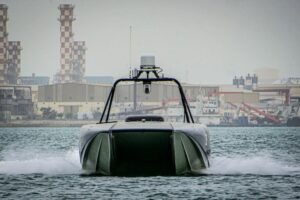 Task Force 59 is the organization operating under 5th Fleet started over a year ago to help test and integrate unmanned systems and artificial intelligence into the Navy (Defense Daily, Sept. 9, 2021).
Cooper also specified the USVs the Navy is operating in the 5th Fleet are largely contractor-owned, contractor-operated, with Navy oversight, referred to as COCONO. He said the partners will have their own choice of whether to also operate as COCONO too.
Under this model, the contractor is responsible for maintenance. Cooper said while there have been challenges at moving out relatively quickly, or at pace, but "every single time they have risen to the occasion, and I find ourselves that we're in a good spot."
"It's a good operating model that we're used to, and we're pretty happy with the results," he continued.
Cooper confirmed the 5th Fleet plans to stick with the current model for the near-term as they figure out what works best.
"I think, at least in the near-term, 2023 for sure, we're gonna stick with this model. And then at some point, I think it's important in the future, if there is some steady state that ultimately is met. But we're just not quite there yet."
Cooper also said everything 5th Fleet and Task Force 59 is doing is applicable to other theaters, like the Indo-Pacific.
"My expectation is we're going to continue to mature what we do and then we'll make an assessment of what it looks like in other theaters. We have participated in exercises already in other fleets…there's a tremendous degree of applicability in other fleets. We have to work with them, and then we'll see what the future holds based on future decisions."