President Biden's nominee to be the next vice chairman of the Joint Chiefs of Staff said Wednesday he plans to push new capability development "even faster" in his role leading the joint requirements process and affirmed a commitment to continued nuclear modernization as a top priority.
Adm. Chris Grady, who most recently served as head of U.S. Fleet Forces Command, told the Senate Armed Services Committee during his confirmation hearing he plans to continue acquisition reforms efforts led by his predecessor, the now retired Air Force Gen. John Hyten, to further streamline the Joint Requirements Oversight Council's to best take advantage of industry's technological advancements.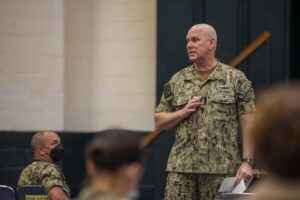 "The efficacy of the JROC and the momentum that it is on now is extremely positive. And, if confirmed, it would be my goal to bend the curve and to go even faster to focus on the threat and the risks and to close those gaps and to move as quickly as possible to get the tools to the center of the universe, the warfighters, as fast as possible," Grady said.
Grady would lead the JROC in his role as vice chairman, which brings together the vice chiefs of the services to help define requirements for major weapon systems, and said he would take a "fact-based and data-based" approach to ensuring acquisition objectives best serve joint needs rather than parochial concerns.
"I think that the key to the JROC is that it is threat and risk-based and that we move validating, as you say, a certain system but addressing threat and risk-based gaps to ensure that the best system is brought forward and not necessarily the best widget," Grady said. "This gets straight to the discipline process that the JROC has to ensure. Strong leadership in the JROC and consultation with my colleagues on the panel has to ensure a very disciplined approach to that so that we don't get that mission creep, which becomes very parochial at some times as you move forward."
Over the summer, the JROC published requirements for the four Joint Warfighting Concept strategic directives – contested logistics, joint fires, Joint All Domain Command and Control (JADC2) and information advantage – driving each of the service branches' individual contributions to the department's new operational concept (Defense Daily, July 26).
Sen. Jack Reed (D-R.I.), the chairman of SASC, urged Grady to ensure the JROC finds the right balance between advanced capabilities and requirements that are technically achievable, adding he sees a "tendency to build a Swiss Army knife when a simpler blade would be appropriate."
"Simplicity can be sublime from a technology perspective. We should look for that," Grady said in response.
On nuclear modernization, Grady said if he's confirmed there will be an opportunity for him to help inform the administration's ongoing nuclear posture review (NPR) which he cited as a critical document as China aims to bolster its own nuclear weapons capability over the next decade.
"If confirmed, I believe I will have an opportunity to help shape the NPR going forward. I've had a little bit of that opportunity as the commander of the Naval forces piece, but I look forward to being part of that process going forward," Grady said. "Deterrence, as an example, with two nuclear competitors [in China and Russia] is different than that with one, which is why the current NPR that is coming forward is such an important document and I think well-timed based on what we're seeing with China."
Grady also said he agrees with the point that there is "no more margin to surge service life extension programs across the nuclear triad," specifically highlighting the need to upgrade past the current Ohio-class submarines and move forward with the Ground Based Strategic Deterrent (GBSD) program to field a new intercontinental ballistic missile. "I do believe that, as we think about GBSD and the timeline there, at a certain point it costs more to maintain than it does to re-modernize and we're approaching that." 
"Just look at hull strength [of the Ohio-class] as an example. We can't go past the physics of metallurgy at some points. There is no margin left in terms of service life extension," Grady said. "I do believe that, as we think about GBSD and the timeline there, at a certain point it costs more to maintain than it does to re-modernize and we're approaching that." 
Sen. Angus King (I-Maine) asked Grady if he also considers the nuclear command and control (NC3) structure as the unofficial "fourth leg" of the nuclear weapons portfolio, adding that without modernization of the NCS the nuclear triad "could be rendered useless."
"We talk a lot about being able to defend our networks, the ultimate network to defend is the NC3 network and we're going to have to be able to do that in cyber. So, if confirmed, it would be a high priority of mine to continue the momentum started to do that," Grady said.