President Trump's administration has informally notified Congress of its intent to sell new F-16 fighter aircraft to Taiwan, in the first step of a long-awaited effort to upgrade the East Asian state's aircraft.
A spokesperson for the Senate Foreign Relations Committee confirmed to Defense Daily Aug. 16 that the committee was notified of the proposed sale. Other sources on Capitol Hill said the notification was sent Thursday evening. The Washington Post first broke the news of the notification Thursday.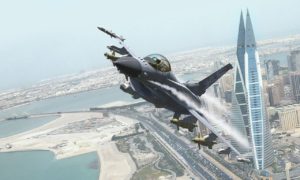 The 66 new Lockheed Martin [LMT]-built F-16V Block 70 aircraft would join Taiwan's current fleet of over 100 F-16 Block 20 fighters, which are being upgraded to the new standard under an agreement made with the Obama administration in 2011. The new sale could be worth up to $8 billion, per administration sources.
China has firmly opposed the sale of new fighters to Taiwan, an island off the southern coast of China that has been governed independently since 1949. Meanwhile, Beijing considers the state to be a province of the mainland.
Last March, Chinese Foreign Ministry spokesman Geng Shuang told news outlets in Beijing that "China's position to firmly oppose arms sales to Taiwan is consistent and clear."
"We have made stern representations to the U.S.," he added "We have urged the U.S. to fully recognize the sensitivity of this issue and the harm it will cause."
Taiwan was also reportedly examining the possibility of procuring new Lockheed Martin-made F-35 Joint Strike Fighters. Richard Aboulafia, vice president of analysis for the Teal Group, said in an interview that tensions with China would have to be "even worse" for that sale to become a realistic shot.
"I am sure they wanted [F-35s], but even for the U.S. to sell new F-16s to Taiwan clearly indicates a bad situation with China," he said. "Things have gotten bad, but F-35 would make things that much worse."
Congress has 30 days to evaluate the sale once it is formally notified. Lawmakers are expected to swiftly approve the deal upon their return from recess in September.
The leaders of the House Foreign Affairs Committee, Chairman Eliot Engel (D-N.Y.) and Ranking Member Michael McCaul (R-Texas) issued a joint statement Friday praising the proposed sale.
"Following our meeting with President Tsai Ing-wen in New York last month, we know this sale will underscore our deep and enduring partnership with Taiwan," the lawmakers said. "Further, it will help deter China as they threaten our strategic partner Taiwan and its democratic system of government."
Senate Foreign Relations Committee Chairman Jim Risch (R-Idaho) welcomed the proposed sale in a Friday statement, calling Taiwan a "steadfast partner" in advancing "a free and open Indo-Pacific" region.
"These fighters are critical to improving Taiwan's ability to defend its sovereign airspace, which is under increasing pressure from the People's Republic of China," Risch said. "I commend the Trump administration … and note the strong bipartisan and bicameral support for this sale."
The fiscal year 2020 National Defense Authorization Act (NDAA) includes a provision that would convey the sense of the Senate to enhance the U.S.-Taiwan defense relationship. Senate Armed Services Committee Chairman Jim Inhofe (R-Okla.) called the defense cooperation with Taiwan "an important pillar of security and stability" in the region in a Friday joint statement with Sen. John Cornyn (R-Texas).
The notice had not yet been formally posted on the Defense Security and Cooperation Agency's website as of this publication's deadline Friday.