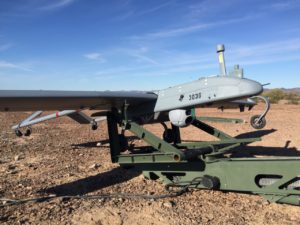 Textron [TXT] is flight testing a new Block 3 version of its AAI-developed RQ-7 Shadow UAS, which the U.S. Army has been using for 20 years and, according to Textron, plans to use for at least 10 more.
Shadow Block 3 is currently about three weeks into testing with two to go, after all of its qualifications, follow-on operational test and evaluation, reviews and approvals, according to David Phillips, Textron senior vice president and general manager of unmanned systems.
Phillips said he expects the first unit to be equipped sometime next year. That's a little slow compared to the initially expected timeline when Shadow updates were announced, which Phillips admitted is unusual, but he said there's a process you have to follow.
"You're torn between wanting to move really fast, but then understanding the risks, the training impacts, et cetera," Phillips said. "Sometimes that's frustrating for industry, but you also understand it.
"We're moving and [the program management office] is moving — moving as fast as we can to support them fielding these new capabilities."
Block 3 comprises multiple updates, including a new water-cooled engine that has yet to be qualified, but will lower ambient noise "significantly" and should raise the horsepower output of the drone's powerplant from 39 to about 49, letting it climb much faster, according to Phillips. The drone is also getting an updated small mission computer with 50 percent increased processing power.
On the payload front, Textron is integrating an L3 [LLL] MX-10 multi-sensor payload that provides improved electro-optical/infrared to the Shadow.
"It is incumbent upon us to make sure [the Shadow] increases capability and remains a reliable element" of the Army's brigade combat teams, Phillips said.
While the current focus is on Block 3, Phillips said there is a long-term roadmap for Shadow to make sure it avoids obsolescence. The focus is on adding capabilities where there is a big return on investment. For example, another Block 3 addition is weatherization, improving the drone's ability to fly in foul weather and so it will be able to better fly in and out of clouds. The goal is to be able to fly through rain falling at two inches per hour, up from a quarter-inch per hour that the current Shadow can handle.
That 800 percent increase in capability opens up entire new missions to a UAS the Army already has, so the investment pays for itself, Phillips said. While the Army's "research and development pot of money has declined," he said, an argument for efficient value adds that pay for themselves can still loosen the purse strings, because it will save money in the long run.
"I don't say it's a hard argument to make," Phillips said. "I say it's incumbent upon us and the Army to make that argument. That's where we're going with Shadow."
That's why the Block 3 improvements are things that the Army has wanted, but now make sense to add efficiently. There are other things the Army would like to see on Shadow, Phillips confirmed, but might not make the same value proposition right now, which is especially crucial as Textron is trying to sell newer drones like its Aerosonde system in addition to keeping the Shadow in sustainment.
"That requires that when we have our quarterly reviews with the Army, we show how we can improve Shadow and how we can continue to drive costs down," he said.