The State Department has approved a potential $108 million deal with Australia for the sale of AGM-114R2 Hellfire missiles.
The Defense Security Cooperation Agency (DSCA) notified Congress on Monday of the foreign military sale.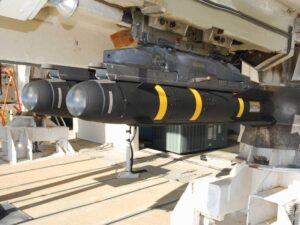 Under the deal, Australia would receive up to 800 of the Lockheed Martin [LMT]-built missiles.
The FMS case also includes support from the Army's Tactical Aviation and Ground Munitions Project Office and Joint Attack Munition Systems Project Office.
"The strategic location of this political and economic power contributes significantly to ensuring peace and economic stability in the region. It is vital to the U.S. national interest to assist our ally in developing and maintaining a strong and ready self-defense capability," DSCA officials wrote in a statement. "This proposed sale will improve Australia's capability to meet current and future threats by enhancing the Australian Army's armed reconnaissance and anti-tank warfare mission capabilities."