The Senate Armed Services Committee plans to hold individual subcommittee markups and a full committee markup of the fiscal year 2021 defense authorization bill June 8-10, the committee said May 26.
Since the COVID-19 coronavirus pandemic began spreading across the globe earlier this year, observers worried that the social distancing guidelines that have altered normal working routines would delay lawmakers' progress on the annual National Defense Authorization Act (NDAA). However, the leaders of the armed services committees have expressed their determination to keep the markup schedule on track.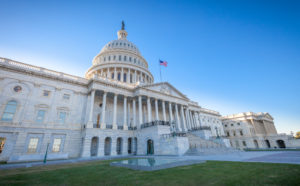 "For the past 59 years—in spite of any and all obstacles—we have enacted a bipartisan defense bill," SASC Chair Jim Inhofe (R-Okla.) said in a Tuesday statement. "This year is no different; the NDAA is a priority."
The committee will conduct the full committee markup and all subcommittee markups at the secret level, with the exception of the personnel subcommittee, keeping in tradition with previous years. Subcommittee hearing markups will begin June 8 and run through June 9, with the full committee markup scheduled for June 10 at 9:30 a.m. If needed, the committee has scheduled an extra session on June 11 to continue the markup as necessary.
The House Armed Services Committee (HASC) has not yet set a schedule for its own NDAA markups.  Chairman Adam Smith (D-Wash.) has previously told reporters his goal is to complete the NDAA process by October, despite the extra pressure imposed by COVID-19.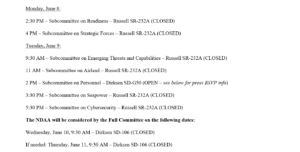 The Defense Department released its fiscal year 2021 presidential budget request Feb. 10, which included $705 billion, a $0.8 billion increase over the FY 2020 enacted appropriation for Base and OCO funding.