Last week, a Navy official confirmed the service is not talking about walking away from the San Antonio-class Flight II (LPD-17) amphibious transport dock ships amid comments the service will build more LPD-type ships after an assessment is finished.
"There's no talk about walking away from the San Antonio Flight II. We are always looking for cost reductions. And so you know, will there be a replacement for it in the future sometime? Yeah. But right now, [the amphibious warfare program office, PMS-377] isn't working on any particularly new ship designs," Tom Rivers, executive director, Program Executive Office, Ships, Naval Sea Systems Command, said during the National Defense Industrial Association's (NDIA) annual Expeditionary Warfare Conference on Feb. 23.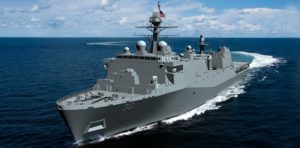 The LPD-17 Flight II class ships were originally procured to replace the older Whidbey Island/Harpers Ferry-class dock landing ships (LSDs). The Navy is currently only currently committed to buying three Flight II LPD-17s: the future USS Harrisburg (LPD-30), USS Pittsburgh (LPD-31), and the unnamed LPD-32.
Congress also funded $250 million in advanced procurement activities for LPD-33 after the Marine Corps listed that as its top unfunded requirement.
The San Antonio-class ships are built by HII's Ingalls Shipbuilding [HII] in Pascagoula, Miss.
Rivers said that currently PMS-377 is merely working with the shipyards and "trying to figure out how we can reduce the costs of the current LPDs."
Nick Baumgardner, deputy program manager for the amphibious warfare program office, said during the event that as long as Congress appropriates LPDs, his office will continue to buy them.
"The requirement is 31 [traditional amphibious ships] in the last authorization. All those ships are currently coming out of our office, so I assume that we will continue to be buying LPDs as they are given to us."
The Navy plans to award the full award for LPD-32 this year.
The NAVSEA officials' assumption of continuing more LPD Flight IIs in essentially the current configuration indicates the Navy may have decided to not significantly modify the new version of the ships. However, in the last two years, Acting Assistant Secretary of the Navy for Research, Development and Acquisition (ASN-RDA) Jay Stefany said the Navy wants to finish a new Force Structure Assessment and several reviews before deciding whether to definitively move forward with LPD-33 or another similar type of ship.
Last year, Stefany said since the LPD Flight II building profile has an ideal shipbuilding pace of two years between procurements the Navy can wait until fiscal year 2025 to decide what comes after LPD-32 (Defense Daily, April 22, 2022).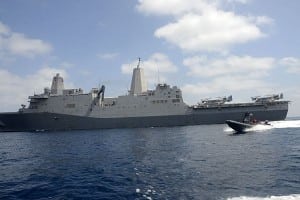 He added that after LPD-32 the Navy could continue with the Flight II, modify the design, or even prefer a new hull.
Earlier this month, during the WEST conference, Secretary of the Navy Carlos Del Toro said he was confident once the latest Battle Force Ship Assessment and Requirements study is completed, it will show a need to continue building more "LPD-like ships well into the future" (Defense Daily, Feb. 22).
Gen. Eric Smith, Assistant Commandant, Marine Corps, said during that event the conflicting assessments and preferences for LPD among the Navy and Marine Corps were due to Navy funding pressures of other shipbuilding programs, particularly the Columbia-class ballistic missile submarines.
Relatedly, another Navy official noted they also have to start preparing the midlife overhauls of the Flight I San Antonio-class ships.
"The LPD Flight Is, it's hard to believe but we need to start planning for their midlife overhaul and upgrade already. LPD-17, somewhere, probably in about fiscal year '28 will be ready for her mid-life overhaul," Judd Krier, OPNAV N953 Amphibious Warfare Branch Head, said during the NDIA conference.
"So we need to make sure we're fully funded and upgrading all of her hull, mechanical and electrical equipment as well as all the combat systems that we need for the future for the back half of her life and to keep her viable and relevant to the fight. So that's the big line of effort with LPD Flight Is," he added.
There are currently 12 LPD-17 Flight I ships, with the 13th ship, the future USS Richard M. McCool Jr. (LPD-29) currently finishing fitting out and is set for sea trials later this year. The last two Flight I ships, LPD-28 and 29, include some design improvements that will then be incorporated into the three scheduled Flight II ships, LPD-30-32.