Defense companies' pause in all political donations by their Political Action Committees (PACs) in the wake of last year's Jan. 6 attack on the U.S. Capitol has not endured.
Moreover, according to a new study by Citizens for Ethics and Responsibility in Washington (CREW), the PACs of Boeing [BA], Lockheed Martin [LMT], and Raytheon Technologies [RTX] are among the top 10 PAC givers to those among 147 GOP congressional members–139 representatives and eight senators–who voted not to certify the Electoral College results of the November 2020 election for President Joe Biden and Vice President Kamala Harris.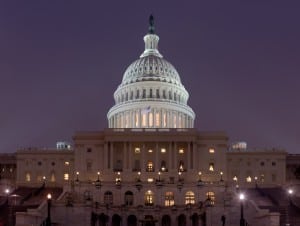 Among the $18 million in giving by 717 companies to 143 of those 147 members and the House and Senate GOP congressional campaign committees, Boeing ranked first, as the company gave $346,500 to 47 members and the two campaign committees–$210,000 to the campaign committees and $136,500 to members and leadership PACs, CREW said. Lockheed Martin was fourth, as it gave $205,000–$60,000 to the campaign committees and $145,000 to 72 members and leadership PACs.
Raytheon ranked sixth, as the company's PAC donated $150,500–$30,000 to the campaign committees and $120,500 to 47 members and the campaign committees.
While significant, PAC giving represented just five percent of total campaign funding in the 2020 congressional elections, according to the Center for Responsive Politics, as large individual donations, Super PAC, and "dark money" donations have grown in importance.
Since the U.S. Supreme Court decision in Citizens United vs. FEC in 2010, the latter types of political spending have taken on a significant role in elections. In the 2020 election cycle, outside spending by Super PACs and "dark money" groups not required to disclose their donors hit a high of $3.2 billion, per the Center for Responsive Politics.
Bruce Freed, the president of the Center for Public Accountability, said earlier this year that much more money is given with treasury or corporate funds than PAC funds and that such treasury or corporate amounts run into the five-, six- and seven-figure range and go to Super PACs, 527 committees like the governors associations, state legislative campaign committees and attorneys general associations, trade associations that use money for election-related spending, and 501(c)4 groups.
Trade associations and 501 (c)4s represent large "dark money" pits, as the organizations are not required to report the sources of their money.
Rep. Steve Womack (R-Ark.) was the only GOP member of the House Appropriations Committee's defense panel (HAC-D) to certify the win of Biden and Harris last Jan. 6.
The other six members—the panel's ranking member Ken Calvert (R-Calif.), Hal Rogers (R-Ky.), Tom Cole (R-Okla.), John Carter (R-Texas), Robert Aderholt (R-Ala.), Mario Diaz-Balart (R-Fla.)—voted to reject the results of the Electoral College, 306 votes for Biden/Harris/ as opposed to 232 for Trump/Pence.
Besides the six HAC-D members, another five GOP HAC members voted against certification, including Charles Fleischmann (R-Tenn.), Andy Harris (R-Md.), Chris Stewart (R-Utah), Steven Palazzo (R-Miss.), and John Rutherford (R-Fla.).
Also among the 147 GOP non-certifying members are one member of the Senate Armed Services Committee (SASC), Josh Hawley (R-Mo.); two members of the Senate Appropriations Committee—John Kennedy (R-La.) and Cindy Hyde Smith (R-Miss.) ; and 13 members of the House Armed Services Committee—ranking member Mike Rogers (R-Ala.); Mo Brooks (R-Ala.); Jim Banks (R-Ind.); Jack Bergman (R-Mich..); Scott DesJarlais (R-Tenn.); Matt Gaetz (R-Fla.); Sam Graves (R-Mo.); Vicky Hartzler (R-Mo.); Trent Kelly (R-Miss.); Doug Lamborn (R-Colo.); Elise Stefanik (R-N.Y.); Joe Wilson (R-S.C.); and Rob Wittman (R-Va.).