The U.S. Navy on May 1 awarded Raytheon [RTN] a $327 million fixed-price-incentive (firm target) contract modification option to produce the first three low-rate initial production (LRIP) AN/SPY-6(V) Air and Missile Defense Radar (AMDR) units.
In exercising the LRIP option, the contract also includes non-recurring engineering efforts in support of production.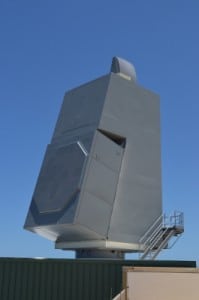 The AMDR SPY-6 is a Gallium Nitride-based air and missile defense radar being developed for the upcoming Flight III version of the Arleigh Burke-class DDG-51 destroyer. It is designed to increase the range, sensitivity, and discrimination accuracy compared to the SPY-1 radar used on existing DDG-51s.
This initial production work is set to be completed by October 2020 and the contract is using Fiscal 2017 and 2016 shipbuilding and conversion funds.
The LRIP decision came as Milestone C of the program was achieved on April 29. The Milsetone Decision Authority for the AN/SPY-6(V) was acting under secretary of defense for Acquisition, Technology and Logistics James MacStravic.
"Progressing to production is the result of a lot of hard work and dedication from our AMDR team of experts across Raytheon, the Navy, and our world-class suppliers. In just over three years of the Engineering, Manufacturing and Development phase, we've gone from a technology demonstrator to a technically mature, highly advanced, functioning radar," Tad Dickenson, director of the Air and Missile Defense Radar program at Raytheon, said in a statement.
"Production begins today – which brings us one day closer to delivering this needed, and unprecedented, integrated air and missile defense capability to the Navy," he added.
In March the SPY-6 AMDR began tracking ballistic missile targets in tests at the Pacific Missile Range Facility in Kauai, Hawaii. There, it searched for, detected, and tracked a short-range ballistic missile
Thomas Kennedy, Raytheon CEO and chairman, highlighted this as "a significant milestone for the system" in an earnings call with investors last week.
The $5.4 billion AMDR program plans to deliver the new radar for the lead Flight II ship in early 2020 and buy 22 radars in total.