Naval Sea Systems Command (NAVSEA) awarded Raytheon [RTN] a $77 million firm-fixed-price contract to transition the Evolved Sea Sparrow Missile (ESSM) Block 2 engineering, manufacturing, and development (EMD) phase into low-rate manufacturing and production of missiles.
The ESSM Is a medium-range ship-launched self-defense missile is an international cooperative upgrade of the RIM-7 Seasparrow missile among the U.S. and 11 other NATO member states. ESSM Block 1 is currently in service as a semi-active-guided missile while Block 2 is being developed to have both semi-active and active radar guidance capabilities.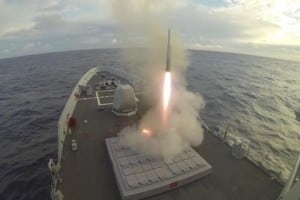 This award specifically covers engineering, test equipment, material, and management needed to transition the (ESSM) Block 2 engineering, EMD phase into the low-rate manufacturing, fabricating and production phase.
The majority of work will occur in Tuscon, Ariz.; Hengolo OV, Netherlands; Ottobrunn, Germany; and Richmond, Australia and is expected to be finished by December 2020.
In all, $61.5 million of the contract is being obligated at award time via FY '18 Navy research, development, test and evaluation (RDT&E) and FY '18 Other Navy procurement accounts.
The Navy noted the contract is not competitively procured, in accordance with Federal Acquisition Regulations pertaining to international agreements.