A downsized two week-long Rim of the Pacific (RIMPAC) exercise kicked off on Aug. 17 off the coast of Hawaii, limited due to the COVID-19 pandemic.
In a recorded opening message, Vice Adm. Scott Conn, commander of the 3rd Fleet and 2020 RIMPAC commander, underscored that "everything we are doing for RIMPAC has been carefully and deliberately planned to ensure everyone's safety."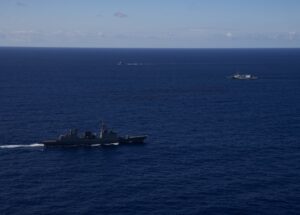 The exercise will be at-sea only and ships will only go pier side to take on food, fuel and other supplies with no sailors leaving the piers nor contacting with anyone else there.
Conn said a 14-day quarantine and negative COVID-19 test was required for all U.S. ship participating in the 27th biennial exercise lasting Aug. 17 – 31. If needed, U.S. ships will be able to conduct COVID-19 tests at sea with no plans to bring specimens ashore and the Navy does not plan to use any local healthcare resources beyond military facilities.
He said originally RIMPAC 2020 was planned to include up to 30 counties, more than 50 ships and submarines, more than 200 aircraft, and 25,000 personnel, with 4,000 of them operating ashore.
"That would have been the largest RIMPAC to date. We obviously have scaled that down to 10 nations, 22 ships, one submarine, and approximately 5,300 personnel – all who remain at sea or on ships," Conn said."
The 10 participating countries include Australia, Brunei, Canada, France, Japan, New Zealand, South Korea, the Philippines, Singapore, and the U.S.
While the 2018 RIMPAC had an exercise control group made up of 600 people, the pared down 2020 exercise reduced this to under 100. Conn reiterated all the ashore-based personnel have also completed 14-day quarantines at a military installation and negative COVID-19 tests.
Conn explained this year the exercise "will focus solely on warfighting and the maritime domain to include anti-surface warfare, anti-submarine warfare, and maritime interdiction operations as well as some robust live fire events."
The theme of this year's exercise is "Capable, Adaptive, Partners."
Adm. John Aquilino, commander of U.S. Pacific Fleet, elaborated RIMPAC 2020 will include training events including live gunnery and missile firings, a sinking exercise, multinational anti-surface warfare, anti-submarine warfare, air defense, replenishment at sea, maneuvering and maritime interdictions operations "where all nations will function as interoperable task forces."
Aquilino said naval leadership from Australia and South Korea will serve as task forces commanders responsible for directing, monitoring and safety of assigned forces while executing the RIMPAC schedule of events, reporting directly to Conn.
Conn said the exercise "represents a unique opportunity to strengthen relationships and build trust. The work we'll do here will make us more capable and adept, ready to meet any challenge be it a threat to international commerce and prosperity or a natural disaster that requires a response from the sea."
"In spite of COVID-19, the world has not stopped. Nor of the demands for the free flow of commerce across the world's oceans. Our collective prosperity depends on this and we need to continue safeguarding it," he added.
Conn argued RIMPAC is still needed every two years to "establish interoperability and forge key relationships," an effort that cannot occur in the middle of a crisis response.
"We want to have those personal relationships and trust already well-established."
"RIMPAC is a unique opportunity for like-minded nations to expand mutual support, increase interoperability, and demonstrate our collective resolve to ensure the Indo-Pacific remains free and open," Aquilino said in a separate statement.
"RIMPAC participants share common values, interests and commitment toward mutual security and prosperity. While COVID-19 presents some challenges, all RIMPAC participants are practicing disciplined COVID mitigations…while gaining invaluable experience working alongside our valued partners at sea," he added.
Aquilino said while not all the invited countries could participate due to the pandemic, he said he was confident all participants "are committed to applying lessons learned from this year's exercise and work with all like-minded nations throughout the year."
The Navy first announced RIMPAC would proceed in this limited fashion in April (Defense Daily, April 30).