The Pentagon is readying to move Patriot missile defense batteries into Iraq and will keep two aircraft carriers in the region as tensions remain high with Iran, the command of U.S. Central Command told reporters on Friday.
Marine Gen. Frank McKenzie announced the decision following a series of U.S. retaliatory airstrikes on Thursday against the Iranian-backed Kataib Hezbollah militia, which was responsible for a rocket attack earlier in the week that killed two U.S. troops and a British service member.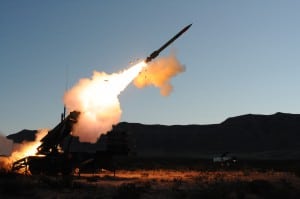 "We have put the preparatory material in place that will allow us to establish Patriot positions inside Iraq, in terms of [Counter-Rocket Artillery and Mortar systems] and other close-in weapon systems that are used to defend those systems as they come in. We're still some days away from those systems being ready," McKenzie said.
The five airstrikes on Thursday were carried out using manned fighter aircraft, though he declined to detail the types of weapons that were fired.
"In response to the [Wednesday] attack on this Iraqi base, [Camp Taji], that hosts coalition forces supporting the Iraqi fight against ISIS, we carried out precision defensive strikes to degrade and destroy advanced conventional weapons that have been provided to Kataib Hezbollah by their Iranian backers," McKenzie said.
McKenzie also noted that the two aircraft carriers remaining in CENTCOM are the USS Eisenhower (CVN-69) and Truman (CVN-75).