Northrop Grumman [NOC] completed a third captive flight test of an unnamed internally funded air-launched prototype missile development series last month, the company said on July 25.
The test occurred at Naval Air Weapons Station China Lake, Calif., in mid-June. The company said this test "validated the capability to identify and discriminate modern, integrated air defense systems and successfully tracked the intended targets during a series of captive flight maneuvers using the company's test aircraft."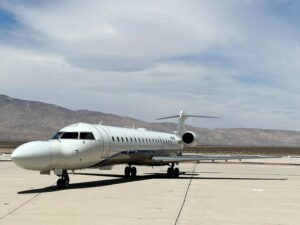 "The system successfully identified and discriminated modern integrated air defense systems during the flight test. We are unable to specify the specific targets or air defense systems," Nancy Stoehr-Campbell, a Northrop Grumman spokeswoman, told Defense Daily in a statement.
Northrop Grumman said this missile is designed to target enemy air defense systems and give deploying forces the freedom of maneuver to complete a mission away from danger. It also underscored the prototype includes open architecture interfaces that allow for rapid subsystem upgrades for enhanced capabilities.
While the original press release did not specify the missile design elements, the company emphasized its utility in relation to the Navy's AGM-88G Advanced Anti-Radiation Guided Missile-Extended Range (AARGM-ER) and said that is being used as the base form factor.
The company said this missile specifically leverages the company's current work under the Navy AARGM-ER contract work, including engineering and manufacturing development, low-rate initial production and integration work for F-35 aircraft.
"The missile technology demonstrated is relevant for multiple on-going and future weapon programs. The advanced capability demonstrated in AARGM-ER form-factor can rapidly be used to upgrade the production AARGM-ER to meet expanded mission requirements," Stoehr-Campbell said.
She added that the company is advancing the capabilities of the AARGM-ER production line by leveraging its expertise and work on that current program and adding in open architecture and the use of digital engineering techniques. This aims to "address expanded mission requirements across multiple missions and platforms."
The company plans for several more flight tests this year, in more stressing scenarios "that are relevant to all programs leveraging the AARGM-ER program," the company said in the original press release. This will lead to a live fire test set for late 2022.
Stoehr-Campbell clarified that Northrop Grumman "will be progressively conducting ground tests and more captive carry testing as we ramp up to the live fire test scheduled for late 2022."
The company also boasted it has accelerated development and the building of this internal-funded prototype missile by combining digital engineering expertise from across the company, including its programs with the Air Force, Space Force, Navy, Army, and NASA.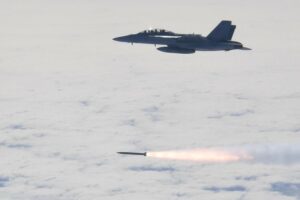 "By merging our weapons expertise and internal investments with our digital engineering proficiency, we are rapidly delivering advanced missile capabilities. This formula supports our strategy to design, test and deliver technologically advanced capabilities ahead of schedule," Mary Petrysyzn, corporate vice president and president, Northrop Grumman Defense Systems, said in a statement.
Northrop Grumman declined to disclose how much internal funding has been used on this missile.
The Navy plans to procure up to 1,803 AARM-ERs through fiscal year 2024 for use on the F/A-18E/F Super Hornet, EA-18G Growlers, and the company is also proving capability for use on all three variants of the F-35 (Defense Daily, April 4).
Notably, this testing is occurring in the backdrop of Northrop Grumman being one of three companies that won a contract for Phase 1 of the Stand-in Attack Weapon (SiAW) competition for the Air Force (Defense Daily, June 9).
The SiAW is meant to operate in anti-access/area denial environments, targeting mobile targets like missile launchers, GPS jammers, anti-satellite systems and air defense systems.
The Air Force plans to field up to 3,000 SiAWs that will cost $8.6 billion.
L3Harris Technologies [LHX] said the Air Force originally considered an upgrade to the AARGM-ER but instead decided to open the SiAW competition to multiple companies.
At the time of the SiAW contract, Northrop Grumman said its design for the program leverages its AARGM-ER design, with its integration work onto the F-35.