The Navy's Program Executive Office Ships Naval Surface Warfare Center, Philadelphia Division (NSWCPD) marked the opening of the new DDG(X) Land Based Test Site (LBTS) during a March 21 ceremony.
This service will use this site to improve reliability and capability as well as assisting with risk reduction and technical oversight for critical systems of the future DDG(X) ship, which aims to succeed the Flight III Arleigh Burke
-class guided-missile destroyer.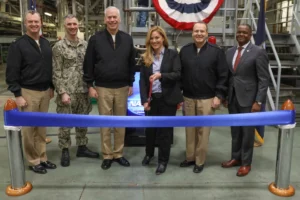 The fiscal year 2022 defense authorization act included a directive requiring the Navy to initiate a land-based test site for the engineering plant before starting construction on DDG(X). The Navy has to prove its concepts for the DDG(X), Constellation-class guided-missile frigate and large Unmanned Surface Vehicle propulsion systems at the land-base testing facility.
The Navy's FY '23 budget request included $50 million for DDG(X) concept development and another $177 million to create this test facility at NSWCPD to test the DDG(X) concept's propulsion system (Defense Daily, April 26).
"Today we mark the beginning of a unique test site that will be used to advance the design, reliability and capability of our Nation's next-generation guided-missile destroyer, the DDG(X), the successor to the supremely successful DDG 51 Arleigh Burke-class," NSWCPD Commanding Officer Capt. Joseph Darcy said during the event.
"The DDG(X) Land Based Test Site is an evolutionary engineering test and evaluation asset that will help build the future: Our Nation's newest and most advanced destroyers," he continued.
Event keynote speaker, Rear Adm. Fred Pyle, Director, Surface Warfare Division (N96), Office of the Chief of Naval Operations and DDG(X) resource sponsor, underscored how useful land-based testing has been for previous classes of Navy ships
"Ship classes such as Spruance, Oliver Hazard Perry, Arleigh Burke, and Zumwalt used sites like these to understand new technologies in both the combat system and the HM&E domains. The LBTS allows us to deliberately reduce risk in advance of construction and write requirements from a place of knowledge instead of uncertainty," Pyle said.
He added the service is "aligned with Congress on the needs for this important test site, because we know the most expensive place to have discovery is in the shipyard during construction. We need and want to avoid that and these investments allow us to do that."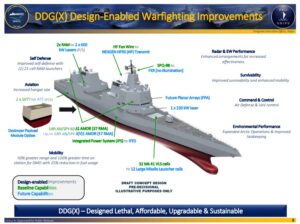 DDG(X) Program Manager Katie Connelly argued the new ship program will include increases to range, efficiency, time-on-station, capability and capacity to give fleet commanders more flexibility.
"Taking an evolutionary vice revolutionary approach, incorporating lessons learned from other major shipbuilding programs and integrating elements of the DDG-51 class allows DDG to efficiently and smoothly transfer into production as the country's next enduring guided missile destroyer," Connelly said at the ribbon cutting ceremony.
NSWCPD also hosts the DDG-51 Class Land Based Engineering Site (LBES), which has a full scale propulsion system testing experience.
DDG(X) is currently in the concept refinement phase before it later moves into the preliminary design phase.
Last July, the Navy awarded contracts to General Dynamics [GD] Bath Iron Works and HII's [HII] Ingalls Shipbuilding segment to conduct engineering and design analysis for DDG(X). Both shipyards build the current Arleigh Burke-class destroyers (Defense Daily, July 25, 2022).