The Navy Department is preparing to host a new set of unmanned prize challenge competitions Nov. 16 -19 it advertises as "Blue Angles for geeks,"  that aims to help accelerate discovery and teambuilding among the service, industry and academia concerning unmanned and autonomous vehicles.
The event, called HACKtheMACHINE Unmanned
, is accepting public signups for the competition that will be held virtually this month. It is being sponsored by the Office of Naval Research (ONR), various naval program executive offices and industry partners including Fathom5 and Booz Allen Hamilton [BAH].
The department is hoping this will build on the Navy's 2021 Unmanned Task Force as the first in a series of three public-facing events to help develop and integrate unmanned and autonomous technology at scale, the Navy said.
"Organizers are looking for military and civilian participants from all walks of life to solve digital, data and cyber problems," the Navy said.
"By fostering collaboration and encouraging diversity across private and public sectors, HACKtheMACHINE Unmanned is a foundation for building a community of technologists to help solve the Navy's most pressing digital concerns in cyber, artificial intelligence and machine learning (AI/ML) and digital engineering," Chief of Naval Research Rear Adm. Lorin Selby said in a statement.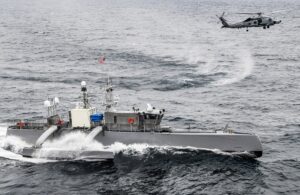 HACKtheMACHINE Unmanned will feature three challenge tracks: Hack the Pilot, to test the security of unmanned drone swarm autopilot systems in a big bounty contest; Detective Bot, to develop methods to sort good from dangerous data in degraded environments to aid machine learning and artificial intelligence; and Top Model, showing the Navy how to best create model-based definitions of requirements for wide-area search that can be used against real system models in unmanned simulations.
These three tracks are geared at focusing on maritime cyber, data science and digital engineering, respectively. Hack the Pilot is being sponsored by Program Executive Office Unmanned and Small Combatants (PEO USC) and the Unmanned Maritime Systems program office (PMS 406); Detective Bot by PEO Command, Control, Communications, Computers and Intelligence (C4I) and the cybersecurity program office (PMW 130); and Top Model by PEO Integrated Warfare Systems (IWS). 
The top three teams for each track will split a $30,000 prize, totaling $90,000 for the entire competition. First place will win $15,000, second place will receive $10,000 and third place will get $5,000.
"Within the realm of unmanned and autonomous capabilities, ONR's goal is to promote agility and find new solutions to warfighter problems. HACKtheMACHINE Unmanned will further position ONR as the hub of that innovation wheel—and educate folks who don't normally work with the Navy about the types of challenges we're facing," Selby added.
"ONR is leading the search for creative, bright, team-building collaborators and learners who know how to hustle and get things done. HACKtheMACHINE Unmanned will enable naval leaders to connect with a new generation of technology talent from across the spectrum of the digital community," Jason Stack, ONR's director for Ocean, Atmosphere and Space Research, and chair of the Intelligent Autonomous Systems Strategy Development Team, said in a statement.
Stack also said the virtual setting "provides an opportunity to rapidly surface new ideas and approaches, along with the formation of new partnerships."
NavalX, as part of ONR, is helping conduct the event.