The Navy completed the first mission systems flight test of the Next Generation Jammer Mid-Band (NGJ-MB) on an EA-18G Growler on Aug. 7, the service said Monday.
The flight was conducted by Air Test and Evaluation Squadron (VX) 23 at Naval Air Station Patuxent River, Md., as a Safety of Flight checkout to make sure the jammer pods can be safely flown on the aircraft for future follow-on flights.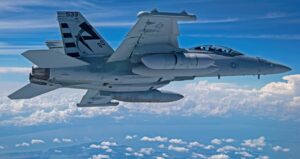 The NGJ program is how Naval Air Systems Command plans to replace and augment the legacy ALQ-99 tactical jammer system currently used by Growlers. The new jammer is split into low-, mid- and high-band frequency increments and aims to help counter and defeat enemy air defense and communications systems via an external jamming pod attached to the aircraft.
The NGJ-MB system was developed by Raytheon Technologies [RTX]. In 2016, the Navy awarded the company a $1 billion contract to design, manufacture, demonstrate, and test the mid-band jammer (Defense Daily, April 15, 2016).
The Navy noted NGJ-MB will use the new digital, software, and Active Electronically Scanned Array technologies "to disrupt, deny and degrade enemy air defense and ground communication systems."
In 2017 Australia entered into an agreement with the U.S. Navy to jointly develop the NJG for the Growlers together.
"What an incredible day for the U.S. Navy, our Australian partners, and the Airborne Electronic Attack (AEA) community," Capt. Michael Orr, AEA Systems (PMA-234) program manager, said in a statement.
"We witnessed a successful first flight with the NGJ-MB capability fully integrated onto the EA-18G Growler, validating the last four years of development and the extensive efforts of these last several months in preparation. I'm extremely proud of the entire Government and industry team," he added.
VX-23 test pilot Lt. Jonathan Williams in a statement said while there was discussion on how the NJG-MB would affect how the Growler handles "it was exciting to have the jet feel like any other flight."
Previously, in July the U.S. and Australian Defense Departments expanded their NGJ cooperative partnership to ensure commonality in future jamming variants (Defense Daily, July 15).
At the time the Navy said the NJG-MB program is currently in the engineering and manufacturing development stage, with development flight testing on the Growler set for this summer. NAVAIR expects to finish Milestone C in the fall followed by a low-rate initial production contract.