Acting Secretary of the Navy Thomas Modly said the service is planning to test the Navy-designed hypersonic glide body later this year.
All of the services have been working on a conventional prompt strike hypersonic weapon capability, with the Navy as lead designer of the glide body and the Army will oversee production. The Navy will buy a common missile stack rocket booster to lift the glide body to the edge of space which combined makes up the all-up round to be used by the Army and Navy. The Air Force will use the same glide body but develop a separate missile launching system.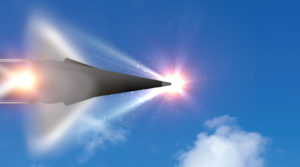 In his weekly Vector messages sent last Friday to the Navy Department workforce, Modly said "Flight Experiment 2 is scheduled for Fiscal Year (FY) 20, 2nd Quarter and will demonstrate the Navy designed Hypersonic Glide Body."
Launcher testing will then continue throughout the rest of FY '20.
That testing is part of technology maturity, one of three lines of effort Modly identified to develop the hypersonic weapon technology.
He added that the Navy's FY '20 analysis will inform the concept of operations (CONOPS) and basing strategy line of effort.
"Our FY20 analysis will focus on refining future basing strategies and launch platform options that we will incorporate in our FY22 Budget Planning process, clearly marking our path to achieving greater hypersonics tube inventories in the fleet."
Modly said the Navy and Marine Corps will continually look for opportunities to quickly evolve the CONOPS and fielding plans through demonstrations, war games, simulations, and lessons learned.
He said both the Defense Department and industry have made initial investments to establish production capacity as they start to move from development into fielding capabilities, with production facilities "ramping up to meet high capacity demand."
Industrial capacity is identified as a line of effort and Modly said they would work closely with the other services, leverage the senior leadership of all three military departments to ensure collaboration, and work with Congress on budgeting.
"We will work closely with Congress as the program ramps up to ensure budget profiles are executable and well understood," Modly said.