Naval Air Systems Command is awarding three companies a total estimated ceiling of $5.1 billion in modifications for work procuring sonobuoys, according to a contract announcement Oct. 3.
Previously, in July the Navy announced
it awarded a Multiple Award Delivery Order Contract (MADOC) for production of sonobuoys. The MADOC provides a marketplace for vendors to compete for annual production sonobuoys, with the ordering period lasting from fiscal year 2023 to 2027 for Navy, international cooperative partners and Foreign Military Sales.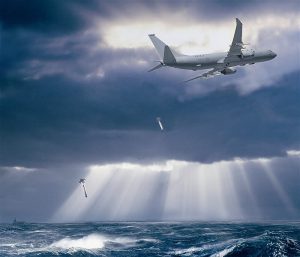 At the time, the Navy said the contract would also be used to replace sonobuoys used in daily anti-submarine warfare (ASW) operations. The MADOC approach also aims to allow long-term competitive dynamics and encourage new entrants to continually enter the marketplace throughout the contract.
The Navy awarded this latest modification under that contract for sonobuoys from Lockheed Martin [LMT]; Britain's Ultra Electronics' Maritime business unit, formerly called Undersea Sensor Systems Inc. (USSI); and Elbit Systems of America' [ESLT] Sparton Corp.
The DoD announcement said this modification covers production and delivery of sonobuoys in the capability categories of "bathythermograph, passive, active/passive combo, multistatic source, multistatic receiver, and special mission in support of annual training, peacetime operations and testing expenditures, as well as, to maintain sufficient inventory to support the execution of Major Combat Operations based on Naval Munitions Requirements Process."
This award means the three companies have the opportunity to compete for individual orders, but no orders were issued at the time of contract award.
The three companies will perform their work in Manassas, Va.; Columbia City, Ind., and De Leon Springs, Fla., respectively, with work expected to be finished by September 2027.
No funds were obligated at the time of award, but they will be obligated on individual task orders.
In August, Sparton confirmed its undersea division, Sparton De Leon Springs, LLC, received a vendor status under the Navy's sonobuoy MADOC, qualifying it to compete for annual delivery orders. The company has been a sonobuoy supplier since 1951.
Elbit completed its acquisition of Sparton Corp. in 2021 (Defense Daily, April 6, 2021).
This award comes a week after the Navy awarded ERAPSCO, a joint venture of Sparton and USSI, a $182 million modification to increase the total contract value for production of another 100,000 AN/SSQ-53, 16,000 AN/SSQ-101, and 10,000 AN/SSQ-62 production sonobuoys. That award will also be funded in the future via individual task orders as they are issued (Defense Daily, Sept. 30).