The Navy awarded Boeing's Insitu, Inc. [BA] a $192 million modification adding scope to procure another 13 RQ-21A Blackjack and 25 ScanEagle unmanned air vehicles (UAVs)
The contract also covers 48 RQ-21A and ScanEagle payloads and turrets, support equipment, spares, and tools to support the aircraft for the Navy, Marine Corps and Foreign Military Sales (FMS) customers.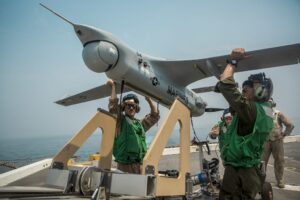 Insitu spokesman Pat Host told Defense Daily this modification is divided into 13 RQ-21As to the Navy and FMS customers and 25 ScanEagles for exclusively FMS customers. The company could not disclose specific FMS customer countries.
Host also said the payloads included in the contract include "the latest generation full motion video (FMV) payloads to include state-of-the-art electro-optical (EO), infrared (IR), short wave infrared (SWIR), laser designators, laser pointers, laser markers, as well as other payloads."
The work will primarily occur at the company's Bingen, Wash., facility and is expected to be finished by June 2026. However, no funds were obligated at the time of award because they will be provided on individual orders as they are issued.
Host said the company expects these individual orders to "flow in throughout the end of this year and the start of 2023."
Last month, the U.S. government approved sending another $775 million in weapons to Ukraine, including the first delivery of ScanEagle drones (Defense Daily, Aug. 19).
Host said none of the sales under this modification are related to Ukraine.
In 2019, Insitu won a $390 million deal to provide 63 RQ-21As to the Navy and Marine Corps and several other vehicles for FMS to Canada, Poland and Oman, including up to 93 ScanEagles (Defense Daily, July 1, 2019).
When asked about the timeline to produce these aircraft, Host said production timelines vary based on the specifics but generally Insitu is producing aircraft daily and can alter the timeline based on priority of the customers to deliver in a timely manner.
"Over 3,000 ScanEagles and 350 Integrator/Blackjacks have been produced, which has created a very robust supply chain able to surge with customer demands," Host said.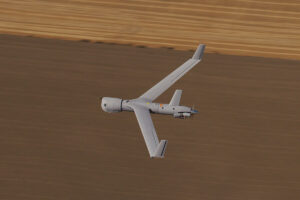 Host also noted this multi-year contract "creates an avenue for our current and future customers to efficiently acquire the latest generation family of tactical UAS," with the production lines able to continue as long as demand remains strong.
"Current events around the globe continue to prove that runway-independent robust maritime capable unmanned aircraft systems built to military specification standards are in high demand, and will continue to be for the foreseeable future," he added.
This award comes after the Marine Corps confirmed in April budget documents it plans to divest of the RQ-21A to save over $108 million over the next five years. The service said the drone does not meet the requirements to support the Marine Corps' Expeditionary Advanced Base Operations and Littoral Operations in a Contested Environment Concepts "and is no longer operationally relevant," (Defense Daily, April 19).
When asked if the Marine Corps move away from these drones impacts production, Host said business from Europe, the Middle East and Pacific regions as well as other U.S. government customers continue to keep the production lines open.
"The situation in the Ukraine has also increased the demand globally for reliable, radio frequency (RF)-hardened, combat-proven platforms that operate on ships as well as on land. While the USMC has made a divestment decision to shift to the MQ-9, other customers have continued to choose and invest in the Insitu family of systems for their ability to be expeditionary, runway-independent, long endurance and range, and maritime capable without compromising combat capability."