The Navy's budgetary appeal to the FY 2020 House's defense appropriations bill warns cuts to funding for the MQ-25 Stingray and carrier replacement program could delay delivery of both the unmanned tanker and an aircraft carrier by over a year, respectively.
The House appropriations bill cut the Navy's Unmanned Carrier Mission Control System (UMCS) by $52 million and the Air Segment product development by $20.6 million because it was "excess to need" as well as $8 million for test and evaluation due to prior year carryover. Both are part of the MQ-25 unmanned tanker program. The Navy said this could delay the MQ-25's IOC by 17 months.
The Navy said the $52 million cut is a 72 percent reduction while the money would fund Aircraft Launch and Recovery Equipment (ALRE) and Joint Precision Approach and Landing System (JPALS) systems, command and control, carrier ship communications, ship/shore systems development engineering, and software and lab development. ALRE and JPALS are needed to safely launch and recover the aircraft.
The service argued reducing funding would eliminate three of four planned aircraft carrier (CVN) installations, delaying integration of JPALS and ALRE on a carrier in FY '20 by 17 months until the ship's next scheduled maintenance period. Air vehicle testing will also be limited to one of the carrier's at-sea periods.
The Navy said "this 17-month delay in MQ-25 IOC will produce cascading effects on fleet integration and operational deployment" and finishing the tasks in FY '20 is essential to starting shipboard testing in FY '21 and allowing Initial Operational Capability (IOC) in 2024.
However, without this funding, "carrier installations are not sufficient to support the scheduled FY '21 flight test.
Relatedly, the Navy said the $20.6 million reduction is also not excess to need and will affect the government and contractor's ability to remove cost and schedule from the program by unfunding the Engineering and Manufacturing Development (EMD) Studies and Analysis (ESA) Contract Line Numbers (CLIN) study.
The ESA CLIN was executed at $6 million in FY '19 and the Navy said FY '20 will be a "significantly design-centric year."
"The increase in ESA CLIN funding will identify trade space opportunities for the government to optimize cost, schedule, and technical aspects to meet accelerated program timelines," the Navy said.
The service added the $8 million reduction in test and evaluation funds "will affect EMD testing events scheduled to start in FY '20."
The service argued October 2020 initial testing on the Boeing [BA] pre-award demonstrator asset, T1, will consume the outstanding test funds in the 4th quarter of FY '19 so there will be no prior year carryover.
The program is planning on ground and flight testing of T1 in FY '20. This includes envelope expansion for the air-refueling store (ARS), landing system development, performance, and carrier control area (CCA) operations.
That testing and software integration testing are combined a prerequisite for EMD builds that need to start in early FY '21 to meet the 2024 IOC.
If the reductions remain, the MQ-25 IOC will move back 17 months, program costs will increase and government personnel and test timelines get longer, requiring modifications to the MQ-25 EMD contract.
Boeing won an $805 million EMD contract as part of the service's first step to buying 72 MQ-25s (Defense Daily, Aug. 30, 2018).
In April, Boeing told reporters it is conducting early tests with T-1 this year and plans for ground-based flight tests later in 2019. Using the T-1 will allow the company and Navy to start work on the aircraft now before finishing the EMD aircraft, saving 18 months of early learning (Defense Daily, April 29).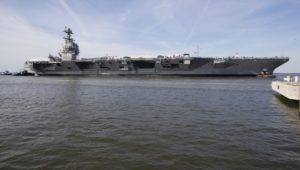 Separately, the Navy opposes $281 million in reductions for the Carrier Replacement Program on the third and fourth Gerald R. Ford-class carriers in the two-ship buy, CVN-80 and -81. It argues this may delay delivery of one carrier by at least one year and prevent reaching the full savings intended in the two-ship deal.
The House bill cut $261 million in propulsion equipment and $20 million in basic construction because both were "excess to need."
Arguing it is not excess to need, the Navy said the contract buying CVN-80 and 81 at the same time was negotiated with builder Huntington Ingalls Industries [HII] "to optimize efficiency in constructing two ships. This includes procuring material at economic order quantity, avoiding cost growth due to escalation, and optimizing continuity of work to achieve a learning curve," the Navy said.
Early this year, the Navy awarded HII a $15 billion detail design and construction contract to buy both Ford-class carriers at once. The Navy has previously argued it expects this process to save $4 billion over buying the ships separately (Defense Daily, Jan. 31).
However, the propulsion equipment reduction would affect the savings by "reducing award of contracts for all the required propulsion plant long lead time equipment and material for CVN-81," the Navy said.
This, in turn, will increase CVN-81's production schedule and risk delivery by at least one year, "directly leading to increased cost due to renegotiation of contracts and delivering CVN-81 later than planned," the Navy said.
Cutting $261 million now will require restoration of funding requirement of about $270 million in FY '21 to procure the equipment and material planned for FY '20.
Moreover, the $20 million basic construction reduction "prevents fully funding FY '20 contractual obligations for the two-ship buy contract," the Navy said
The Navy's appeal said renegotiating these contracts "would result in inability to achieve intended savings for both CVN-80 and CVN-81."