The Pentagon's No. 2 military official said Friday the U.S. does not intend to "cut off any allies" as a result of its formation of a new trilateral security partnership with the U.K. and Australia, which has received pushback from France over its exclusion and the subsequent loss of a potential $90 billion submarine contract.
"I can tell you since the U.K. is a member of NATO and Australia is not and we are, that NATO will be involved in [the new AUKUS partnership]. Our goal is to build alliances to change the posture in the Indo-Pacific, to change the posture in the Atlantic, with all our allies. So our goal is not to cut off any allies. Our goal is to integrate all our allies and partners together," Air Force Gen. John Hyten, vice chairman of the Joint Chiefs of Staff, said during an Atlantic Council discussion.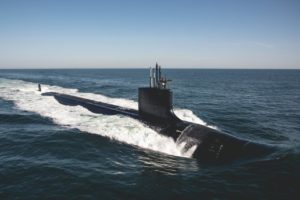 Hyten's remarks come as the French Foreign Ministry announced the country is recalling its ambassadors to the U.S. and Australia, citing the "exceptional gravity" of Wednesday's announcement detailing AUKUS and Australia's intent to pursue nuclear-powered submarines.
"The cancellation of the Attack class submarine program binding Australia and France since 2016, and the announcement of a new partnership with the United States meant to launch studies on a possible future cooperation on nuclear-powered submarines, constitute unacceptable behavior between allies and partners, whose consequences directly affect the vision we have of our alliances, of our partnerships and of the importance of the Indo-Pacific for Europe," the French Foreign Ministry wrote in a statement. 
Australia currently operates a fleet of six Collins-class conventionally-powered diesel-electric attack submarines, but had pursued a potential $90 billion program to replace that fleet with 12 new conventionally-powered submarines designed by France's Naval Group. The latter, 65 percent owned by the French government and 35 percent by Thales, also builds the Barracuda-class boats
President Biden detailed the new AUKUS partnership on Wednesday alongside Australian Prime Minister Scott Morrison and British Prime Minister Boris Johnson, which is aimed at bolstering Indo-Pacific strategic security efforts and will begin with an 18-month initiative to inform how Australia will go after acquiring nuclear-powered submarines (Defense Daily, Sept 15). 
Australian Defense Minister Peter Dutton said Thursday the nuclear-powered technology operated by the U.S. and U.K. is superior to the conventional submarine technology offered by France (Defense Daily, Sept. 16). 
"In the end, the decision that we have made is based on what is in the best interests of our national security and the prevailing security and peace within the Indo-Pacific, and therefore it became a natural partnership with the U.K. and the U.S," Dutton said during a press conference alongside U.S. Secretary of State Tony Blinken, Defense Secretary Lloyd Austin, and Australian Foreign Minister Marise Payne.