Over the last few years, conversations about mandates for commercially operated unmanned aircraft systems (UAS) flying in U.S. airspace focused heavily on Remote ID. As final rulings on drone identification technology were released and implemented in the last year, industry experts and regulatory bodies are turning their attention to technologies to focus more on how drones are operating in the airspace like beyond visual line of sight in the U.S. and UAS traffic management in Europe.
The U.S. Federal Aviation Administration (FAA) released Remote ID and drone operations over people rules in December 2020 and those rules went into effect in April 2021. Remote ID provides information like identity, location, and altitude of UAS and requires operators to use a standards Remote ID drone or a drone with a Remote ID broadcast module.
Current regulatory requirements limit UAS to flying within the line of sight (LOS) of an operator. This means that every drone needs a remote pilot in command (RPIC).
"The current regulatory requirements in the U.S. limit UAS operations to within line of sight (LOS) of the remote pilot-in-command (RPIC) and also assign responsibility for maintaining and operating the UAS in a safe manner to the RPIC," Vijay Somandepalli, CTO of American Robotics, told sister publication Avionics International via email. "This places a large burden on the RPIC to not only know and understand the technologies that go into today's small UAS but also handle a lot of operational planning required for using small UAS for commercially useful purposes such as data gathering."
Companies like American Robotics are currently working on technology to enable beyond visual line of sight (BVLOS) flight while regulatory agencies are creating rules for these operations.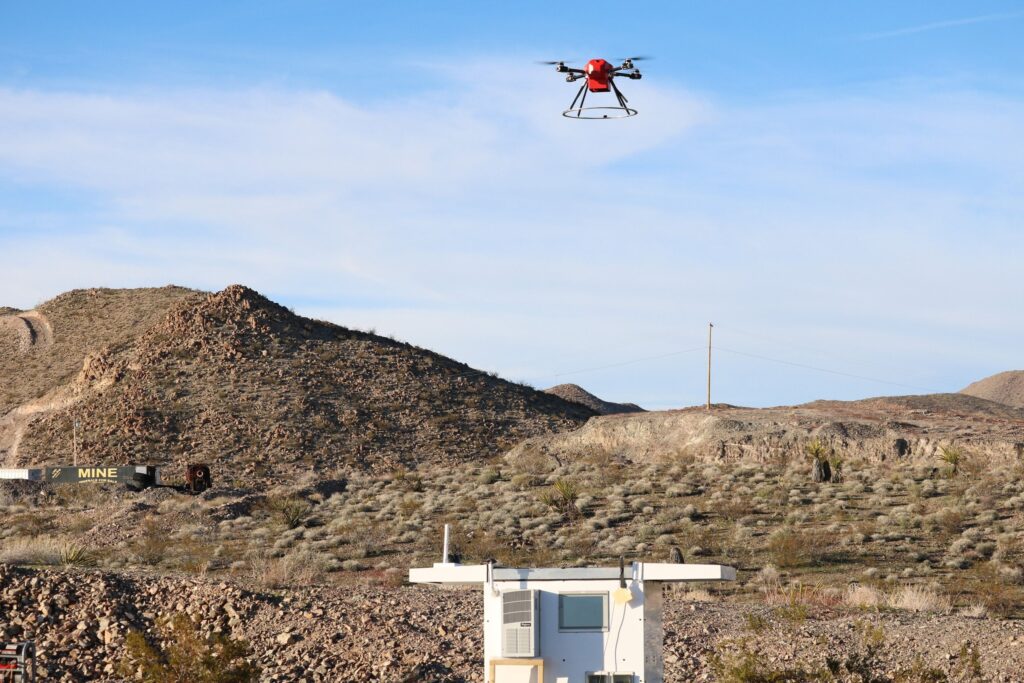 "The commercial UAS industry is growing quickly and providing significant benefits to the American public, but enabling expanded BVLOS operations at scale is critical for the industry to truly take off," Somandepalli said. "Automated BVLOS operations are particularly important to bring efficiencies and increased productivity to industrial sectors, including oil and gas, renewable energy, infrastructure, and agriculture verticals. Key to these operations is the use, and FAA acceptance, of new and innovative safety technologies, such as long-range collision avoidance sensors and software-enabled automation."
To achieve BVLOS flight, a drone needs technology like sensors, avionics, airspace integration technologies, data processing, and analytics capabilities.
American Robotics Scout UAS is a "drone-in-a-box" solution that uses artificial intelligence (AI) algorithms, robotics software, and other technologies to enable safe and scalable drone operations.
"We have also incorporated advanced edge computing into the Scout system which enables the data collected by our UAS to be processed and turned into actionable information at speeds that have never before been possible," Somandepalli said. "The combination of advanced robotics technologies, AI and autonomy software and edge computing enables the Scout to capture data at very high resolutions and at frequencies that has never before been possible."
Somandepalli said American Robotics' Scout system uses redundancy to increase safety. While using the Scout system, UAS can fly hundreds of miles from their operators.
"By developing a layered, redundant system of safety that includes these proprietary technical and operational risk mitigations, we have proven that our Scout UAS-based aerial intelligence platform operates safely in the NAS, even when it conducts flights beyond-visual-line-of-sight
(BVLOS) of both the operator as well as any humans on-site," Somandepalli said. "The Scout system is capable of being operated remotely from hundreds of miles away in a highly automated fashion with little human oversight."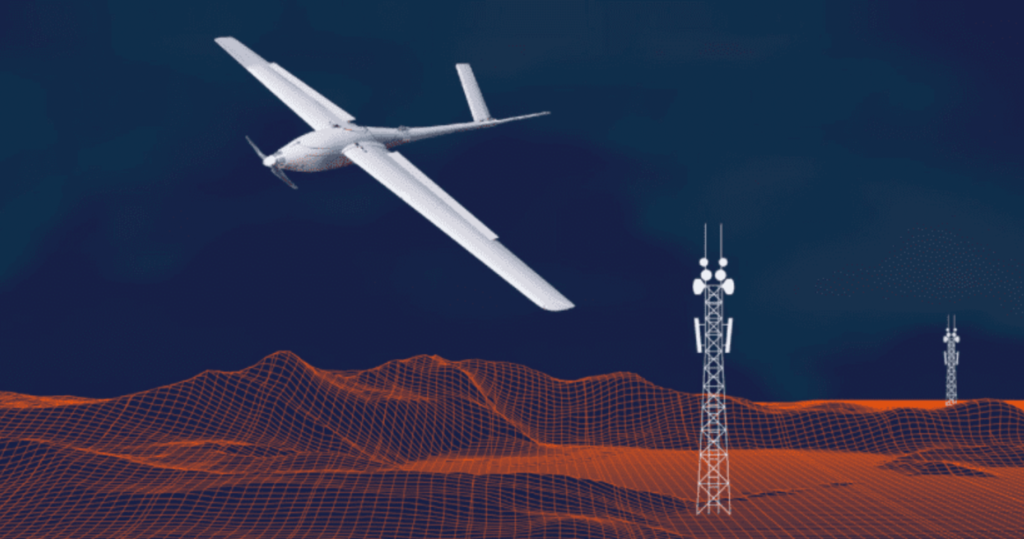 L3Harris [LHX] is also creating a BVLOS system that uses a data collection system, airspace surveillance software, and an airspace surveillance data feed, John Standley, business development lead for surveillance & automation and unmanned aviation solutions for L3Harris Technologies, told Avionics via email.
"Our technological solutions are a response to our customers specific BVLOS operational needs and safety case for the FAA," Standley said. "L3Harris' suite of BVLOS operational solutions, including our ADS-B Xtend data collection system, RangeVue Pro airspace surveillance software, and NextGen airspace surveillance data feed, give UAS operators the enhanced airspace situational awareness they need to operate safely BVLOS."
L3Harris' BVLOS system also uses sensor feeds and ground-based radar. All of the information gathered from the system is displayed with the drone's position on a map for easy use by operators.
"The benefits of this consolidated view for safe operations have been proven through many successful field deployments," Standley said. "Our customers have successfully achieved FAA waivers and exemptions using the L3Harris BVLOS solution, including BNSF Railway and Xcel Energy."
L3Harris is also working as a systems integrator on the UAS BVLOS system at the Northern Plains UAS Test Site (NPUASTS). The NPUASTS has the first statewide UAS BVLOS network, Vantis.
"Over the past decade, we've partnered with the University of North Dakota and the Northern Plains UAS Test Site to bring UAS BVLOS technology's potential to fruition – from concept development to field deployment," Standley said. "We are currently working with the Northern Plains UAS Test Site in North Dakota, to deploy our baseline UAS network system that was developed for the Vantis Network."
While the development of these technologies has enabled BVLOS flight, regulations still restrict it. The FAA is currently working with American Robotics and L3Harris to create rules for BVLOS flight.
The FAA announced the creation of a UAS BVLOS Aviation Rulemaking Committee (ARC) in June.
"Right now, there are several companies using limited beyond visual line of sight, under existing regulations with waivers to conduct routine surveillance inspection and maintenance tasks for the railroad, electric, oil and gas and communications industries, and we're learning a lot from this work but the operations…are not truly scalable or economically viable in the mid to long term under today's rules so we need to change that," FAA Administrator Steve Dickson said at the FAA UAS Symposium on June 9.
This committee allows companies who are developing technology in the space to provide their expertise to regulators.
"L3Harris was selected along with other industry leaders, to participate in the FAA's BVLOS Advisory and Rulemaking Committee, which will give us an opportunity to share our expertise and insights from our experiences to help solidify a scalable path forward for BVLOS operation in the NAS," Standley said.
However, mandates for BVLOS flight are not the only area regulatory bodies are looking at for UAS integration. The European Union Aviation Safety Agency (EASA) is working on a regulatory framework for U-space, the European UAS traffic management (UTM) system. The European Commission released its framework for U-space in April and the regulation will go be applicable in 2023, Sascha Oliver Schott, section manager for drones on the executive directorate at EASA, told Avionics via email.
"The European Commission in April 2021 published a first regulatory framework for the U-space (the European UTM system)," Schott said. "It specifies an initial set of four technical services that U-space Service Providers (USSP) will have to deliver. The regulation becomes applicable in January 2023."
Schott said that EASA sees U-space, command and control links, interoperable and low-cost detect and avoid, and electronic conspicuity technology to be the most challenging enablers for safe airspace integration for UAS.
EASA is also working on airworthiness, vertiports, air operations, personnel training and licensing, and operator certification. Schott said that EASA is also looking at digitization as more UAS make technology advancements.
"As industry endeavors to gradually remove the human pilot from the aircraft, we believe that the whole topic of 'Digitalisation' (which in the UAS domain mainly comprises Artificial Intelligence, Autonomous vehicles, Cybersecurity, Information Management, etc.) must become a key competence for aviation safety regulators like EASA, more so than it already is today," Schott said.