House lawmakers are interested in the potential for the Army to explore vehicle autonomy capabilities with its Stryker fleet, calling for a report on the feasibility and costs associated with pursuing the technology.
The House Armed Services Tactical and Air and Land Forces Subcommittee included the Stryker autonomy directive in its markup for the fiscal year 2023 National Defense Authorization Act as part of the panel's interest in how autonomous or optionally-manned capabilities can be applied to current platforms, and not just future systems currently in development.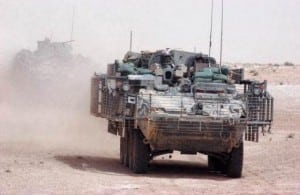 "The committee's interest in vehicle autonomy is not only limited to the development of future combat and tactical vehicles but also to currently fielded systems that are projected to remain in the force for the foreseeable future," the panel wrote in its mark. "Given the Army's commitment to the Stryker vehicle and its apparent adaptability to a variety of tactical functions, the committee considers this system a likely candidate for research, development, testing, and operational experimentation with installed autonomous and advanced operator assistance systems."
Under the provision, the Army would be required to brief HASC by next March on the "advisability, feasibility, and estimated cost of establishing a program to conduct research, development, prototyping, testing, and operational experimentation with autonomous, optionally manned, or advanced operator assistance systems on Stryker vehicle."
The briefing would cover an outline of potential performance objectives for a Stryker autonomy program, a test and experimentation plan and an estimated funding profile.
The Army is currently exploring vehicle autonomy capabilities for Next-Generation Combat Vehicle modernization programs such as the Robotic Combat Vehicle and the Bradley-replacing Optionally Manned Fighting Vehicle.
The subcommittee's mark also includes a separate directive for a report on the Army's overall development and acquisition strategy for autonomous ground vehicles, citing the potential for such systems to "increase efficiency, reduce workload, reduce risk, and support the lethality of ground forces."
"Given the level of effort the Army has made with various classes of autonomous or optionally manned vehicles, the committee would like a better understanding of the Army's plans, if any, to transition from developmental projects to acquisition programs," the panel wrote in its mark.
The Army's top acquisition official would be required to submit a report to HASC by the end of next January detailing autonomous ground vehicles the Army plans to develop and procure, projected program timelines, quality and safety metrics being used and information on how the Army is identifying and assessing commercially-available vehicle autonomy technologies.