The House Armed Services Committee early Thursday morning opted not to adopt a proposal that would have mandated the Air Force hold a full, open competition for its KC-Y "bridge tanker" program.
Two lawmakers offered KC-Y amendments during the committee's markup of its fiscal year 2023 National Defense Authorization Act (NDAA), with the panel ultimately voting 36 to 22 in favor of adopting a measure that would allow the Air Force to procure the tanker without an open competition while requiring the Air Force secretary to explain the reasoning behind such a decision.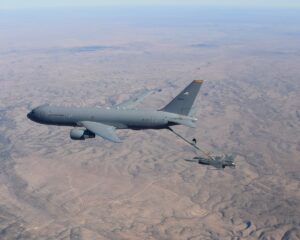 Rep. Donald Norcross (D-N.J.), chair of the HASC Tactical Air and Land Forces Subcommittee, offered the provision as a "perfecting amendment" to Rep. Jerry Carl's (R-Ala.) proposal to mandate the Air Force hold an open competition or Congress would restrict funding for the program.
"The importance of this competitive bidding process is to ensure the Air Force has the right aircraft, has the right capabilities at the right price for the taxpayers. And we have to make sure this happens," Carl said of his proposal. "We're being asked to turn the checkbook over to the Air Force. I refuse to allow that to happen. I encourage everyone to think and think hard on this one. We cannot let the DoD, the Air Force, any branch of the government, to continue to run away with our checkbook and do what they want to do. They have to be responsible."
Norcross' perfecting amendment essentially superseded the language of Carl's measure, arguing that such a provision would "box in" the Air Force on how to manage the program before it's finalized the requirements for the bridge tanker program.
Six Republicans voted in favor of Norcross' perfecting amendment: Reps. Joe Wilson (R-S.C.), Sam Graves (R-Mo.), Mike Gallagher (R-Wis.), Jim Banks (R-Ind.), Liz Cheney (R-Wyo.) and Stephanie Bice (Okla.), while Rep. Anthony Brown (D-Md.) was the sole Democrat on the committee to vote against the measure.
The KC-Y commercial derivative tanker could fill the gap between the completion of fielding the Boeing [BA] KC-46 in 2029, or later, and the future KC-Z tanker.
Lockheed Martin [LMT] said last September it plans to team with Airbus to offer a version of the A330 Multi Role Tanker Transport for KC-Y, called the LMXT (Defense Daily, Sept. 17 2021).
The Air Force indicated recently it plans to move back discussions with companies on a possible KC-Y tanker from this fiscal year until fiscal 2023 (Defense Daily, May 31).
"We have the [KC-46] program that is running now. It is less than perfect. There's no question about that. But the idea that we are somehow just going to throw a check out the window and say 'Yeah, just keep buying them' is nowhere near the truth," Norcross said.
Carl and several other lawmakers raised concerns over lingering issues with KC-46, such as challenges with the Remote Visual System and boom stiffness, with HASC Ranking Member Mike Rogers (R-Ala.) adding that Boeing has had the contract for over 10 years and "they still haven't gotten us a tanker that meets the requirements."
"Why would we reward that behavior with a no-bid contract? It's indefensible. It would be legislative malfeasance for this committee to reward them with a no-bid contract. And [Air Force] Secretary Kendall has told me he's inclined to give that contract. And I've told him, I swear before goodness I'm not going to turn loose of this until I stop that," Rogers said. "Just know this, if we lose today this is coming back next year."
Rep. Adam Smith (D-Wash.), the HASC chair, cautioned that forcing the Air Force into a competition for KC-Y may lead to higher costs and a lengthier process, while adding that continued issues with the KC-46 could lead the Air Force to forgo a sole-source procurement.
"Believe me, I can go chapter and verse…on everything that is terrible about the way Boeing has handled this contract. It is indefensible, without question," Smith said. "If we're sitting here a year from now and that [KC-46] camera doesn't work and they're not moving forward, we don't have a choice at that point. We've got to get something else. But if we do this now, we're spending a lot more money and I guarantee you the program will be dragged out even further and will be more costly."
HASC voted 57 to 1 late Thursday morning to advance its nearly $840 billion version of the FY '23 NDAA (Defense Daily, June 23).