Rep. Donald Norcross (D-N.J.) and Rep. Vicky Hartzler (R-Mo.), the chair and vice chair, respectively, of the House Armed Services Committee's tactical air and land forces panel, asked U.S. Air Force officials on Apr. 27 why the service's fiscal 2023 budget request indicates a significant acceleration in the planned retirement of fighter aircraft over the next five years.
The future years defense plan (FYDP) through fiscal 2027 divests 646 fighters, while only buying 246, and includes a complete retirement of the Air Force's fleet of 281 A-10 close air support aircraft by fiscal 2028.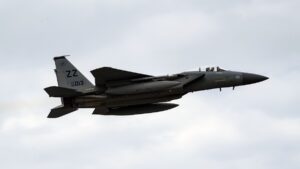 The Air Force's planned net divestment of 400 fighters in the coming years is "news to this committee since we were not provided with the FYDP last year," Hartzler said during an Apr. 27 panel hearing. "The Air Force now plans to divest its F-15C and D fleets by 2026…and has cut its planned F-15EX acquisition objective from 144 to now only 80 new aircraft, all the while shifting expected timelines for the NGAD (Next Generation Air Dominance) program significantly later than originally planned."
Air Force Lt. Gen. David Nahom, the service's deputy chief of staff for plans and programs, replied that, on a positive note, NGAD "is on a very good track," that he could provide more details in a classified session, and that NGAD development and fielding "timelines have not changed appreciably from last year."
"I was in a classified briefing a couple of weeks ago, and that's not what I was told," Hartzler then said.
Nahom replied that he would like to meet again in a classified setting to "make sure we're all looking at the same things, but I do actually like where Next Generation Air Dominance is going because I think it's the right thing to do for our nation."
"Also, until we get there, we have invested in the F-22 advancements to make sure that we have that air superiority hedge between now and Next Generation Air Dominance fielding," he said. "Those advancements are going very well. Although delayed, we're happy with the progress on TR3 (Technology Refresh 3) and Block 4 [for the F-35]. We look forward on getting that capability into the F-35 as well as some of our advanced weapons systems."
Nahom said that Congress provided and the Air Force is spending $1.2 billion on its fighters from fiscal 2022 to fiscal 2023.
"The Air Force has invested as much money in TR-3/Block 4 as our industry partners can execute in fiscal 2023," the Air Force said in an email on Apr. 28.
TR3 is the computer backbone for Block 4, which is to have 88 unique features and to integrate 16 new weapons on the Lockheed Martin [LMT] F-35. A big challenge, however, for TR3 is the L3Harris [LHX] integrated core processor, and the Government Accountability Office has been concerned by the possibility of further delays in processor deliveries and by the poor software quality for Block 4. The processor is to have its first flight on an F-35 in July.
Nahom said that beyond the program challenges for NGAD and the F-35 he is concerned with the nearly three-decade average age of Air Force fighters.
In response to Norcross and Hartzler's question about the acceleration in the FYDP through fiscal 2027 of Air Force fighter retirements, Nahom said that the service's initiation of procurement for the land-based legs of the nuclear triad–the Northrop Grumman [NOC] B-21 Raider stealth bomber and the LGM-85A Sentinel future ICBM–helped to crowd out fighter investment.
Yet, Norcross pointed out that the committee knew of those planned buys last year, and he then asked Nahom what had changed in the last year to lead the Air Force to accelerate its planned fighter retirements.
Nahom said that he would research that issue and report back to lawmakers.
What was left unsaid during the hearing was the possible influence of the Biden administration's thus far unreleased National Defense Strategy, the Air Force's plans to field many more less expensive combat drones in the coming years, and the possible sway of lessons from the Ukraine conflict, which has revealed the value of long-range fires and drones.