Promising to question assumptions while modernizing the Navy, Adm. Mike Gilday on Thursday officially relieved Adm. John Richardson to become the 32nd Chief of Naval Operations (CNO).
During the ceremony held at the Washington Navy Yard, Gilday said the service is moving in the right direction and credited it, in large part, to Richardson's leadership.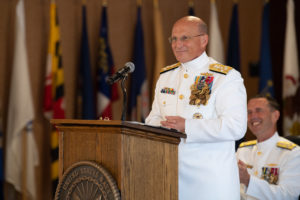 "I do believe that our Navy's strategic direction is rock solid and I think our Navy's in great shape. We are recruiting and retaining a high-quality force. We are providing well-trained combat forces forward around the globe. We are modernizing our Navy at a scope and a pace that we have not seen in decades. I can say all that, in large part, due to the leadership of our 31st CNO," Gilday said.
In these next years, he said his focus was to move forward "with the sense of urgency and sustaining our readiness and modernizing our force and taking care of our most important weapon system: our sailors and their families."
"We will question our assumptions. We will think differently about the competition that we are now in. We will be the Navy the nation needs now and we will build the Navy the nation needs to fight and win in the future, always guided by our core values," he added.
Secretary of the Navy Richard Spencer presided over the ceremony and commended Gilday's experience.
"Adm. Gilday has already played a critical role in restoring readiness and he's well positioned to take over our integrated naval force as we march into the future," Spencer said.
"From his distinguished commands at sea to his cooperation with NATO allies to confront the great power competition to his innovation with cyber command, Admiral Gilday has demonstrated what an outstanding leader and officer he is…his most recent assignment as Director of Joint Staff has given him visibility into the challenges that he will now face. It's a unique transition, in that regard," he continued.
"I am confident that he will attack with this responsibility with the urgency that I continually beat on the drum for the United States Navy. We can achieve next-generation integrated naval force we need under his command, that I am sure."
Richardson took time to recommend Gilday as well, saying he "is a true cutting edge warfighter, a surface warrior who, by virtue of his leadership at 10th Fleet, fully appreciates the challenges we face in the cyber warfare arena and the increasing pace of competition in new domains."
"His experience as the director of the Joint Staff will ensure that the Navy continues to look for every opportunity to collaborate with other services, allies, and partners around the world. The Navy will be in good hands with Admiral Gilday at the helm," Richardson added.
Gilday is the first three-star admiral to be chosen as CNO since President Nixon chose Vice. Adm. Elmo Zumwalt in 1970. He was picked over six other four-star admirals, excluding the new Vice CNO, Adm. Robert Burke.
He was selected after Adm. Bill Moran stepped down after being confirmed as CNO due to Spencer questioning his judgment over a professional relationship with a former public affairs officer (Defense Daily, June 8).
Before serving as director of the Joint Staff, Gilday led the 10th Fleet/Fleet Cyber Command; served as director of operations, J3, for the Joint Staff; and commanded Carrier Strike Group 8.
He was confirmed by the Senate by voice vote on Aug. 1, a day after his Senate Armed Services Committee confirmation hearing (Defense Daily, Aug. 1).
During that hearing, Gilday promised to report monthly to the committee on the status of the delayed USS Gerald R. Ford (CVN-78) "in complete transparency" given the delays due to new technologies, particularly new weapons elevators (Defense Daily, July 31).