Gerald R. Ford-class aircraft carriers continue to have new systems that have inadequate or unknown reliability that risk the first ship's Initial Operational Test and Evaluation (IOT&E) timelines, the Defense Department's head of weapons testing said.
Continuing a theme from previous assessments, the DoD Director of Test and Evaluation's (DOT&E) 2018 annual report found "poor or unknown reliability of systems critical for flight operations including newly designed catapults, arresting gear, weapons elevators, and radar, could affect the ability of CVN 78 to generate sorties."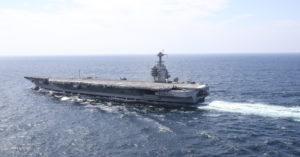 The report said these reliability issues "poses the most significant risk to the CVN 78 IOT&E timeline."
The
Ford-class carriers are built by Huntington Ingalls Industries' [HII] Newport News Shipbuilding (NNS).
DOT&E said the first carrier in the new class, the USS Gerald R. Ford (CVN-78), will likely not achieve the number of aircraft sorties per day requirement, called sortie generation rate (SGR). "Unrealistic assumptions underpin the SGR threshold requirement. These assumptions ignore the effects of weather, aircraft emergencies, ship maneuvers, and current air wing composition on flight operations."
The weapons tester office said it plans to assess CVN-78 performance during IOT&E by comparing it to the demonstrated performance of Nimitz-class carriers as well as to the SGR requirement.
While DOT&E noted hundreds of successful F/A-18 E/F Super Hornet tests on CVN-78 using the new electromagnetic advanced launching system (EMALS) and advanced arresting gear (AAG), it said their poor reliability they have demonstrated thus far could help delay CVN-78's IOT&E period.
Over 747 shipboard launches using EMALS, the system suffered 10 critical failures, well under the requirements of 4,166 mean launches between critical failures.
Likewise, 763 shipboard landings using the AAG occurred, but it suffered 10 operational mission failures, far below the requirement of 16,500 mean recoveries between such failures.
CVN-78 started launching and recovering Super Hornets in 2017 (Defense Daily, July 31, 2017).
The report said both systems' reliability concerns are exacerbated because they each have issues that limit maintenance during flight operations.
Electrically isolating equipment for EMALS and AAG is in turn laborious and not possible, respectively. This "precludes EMALS maintenance during flight operations" and limits "corrective maintenance on below-deck [AAG] equipment during flight operations."
The report also found serious issues with the carrier's dual band radar (DBR), made of fixed array antennas in the X- and S-bands. X-band radar is a multi-function radar while S-band is a volume search radar.
The Navy tested the DBR during sea-based development testing (SBDT) in 2018, but the DOT&E found it was "plagued by extraneous false and close-in dual tracks adversely affecting its performance."
The report said the Navy's analysis found DBR performance must be improved to support carrier air traffic controller center certification. Moreover, integration of DBR electronic protection capabilities is still incomplete and unfunded.
"With modern threats, a lack of electronic protection places the ship in a high-risk scenario if deployed to combat," DOT&E said.
The report noted the often-delayed advanced weapons elevators (AWE) are also behind schedule, with none of the 11 elevators on CVN-78 installed by September.
In November, Assistant Secretary of the Navy for Research, Development and Acquisition (ASN-RDA) James Geurts told a Senate committee that one of the elevators was then finished with tests and evaluation while a second was almost done with testing (Defense Daily, Nov. 27).
Last week, NNS president Jennifer Boykin told reporters the second elevator is going through the final stages of certification and will be delivered within weeks.
She said the company expects to deliver four elevators by the time CVN-78 finishes its post-shakedown availability (PSA) and four or five of the remaining elevators will be going through the certification process by the time the Ford reaches its sail away date (Defense Daily, Feb. 1).
Last month, Secretary of the Navy Richard Spencer said he assured President Trump the elevator issues would be cleared up and ready by the summer when CVN-78 finishes its PSA in the summer or he can be fired (Defense Daily, Jan. 8).
DOT&E said delays in ship development and initial trials, partially due to these new systems, pushed both phases of IOT&E to FY 2021 and 2022, adding about two years to CVN-78's timeline.
The report recommended the Navy provide schedule, funding, and an execution strategy for assessing SGR. The strategy should specify which testing will be done live, a process to accredit the seabasing/seastrike aviation model for operational testing, and a method to compare CVN-78's performance to the Nimitz-class carriers.
DOT&E warned that when it compared a 2013 DOT&E operational assessment of past carrier operations in major conflicts to the Ford requirements, "the CVN-78 SGR requirement is well above historical levels."
DOT&E also recommended the Navy develop and implement DBR electronic protection to enhance ship survivability.