The Department of Defense is supporting a new partnership with a cyber design institute to develop new solutions for improving the cyber security of the manufacturing industry.
The Digital Manufacturing Design and Innovation Institute (DMDII) in Chicago opened the Cyber Hub for Manufacturing on Monday, after receiving $750,000 in DoD seed funding. The effort will bring together new private-public partnerships to test innovative cyber security capabilities.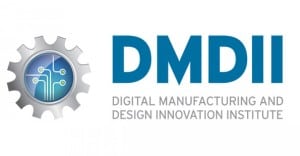 "The launch of the Cyber Hub for Manufacturing embodies why DMDII exists. We need to think about securing our manufacturing equipment the way we secure our laptops, and the complexity of this issue means our partners will get there much faster by working together," Thomas McDermott, DMDII's executive director, said at Monday's launch event.
Growing vulnerabilities associated with the rise of internet-connected devices and data processing systems in U.S. manufacturing will require new solutions to fend off future cyber threats, according to DMDII officials.
While large companies may have the resources to develop new security capabilities, DMDII's cyber hub will look to address acute challenges faced by small and medium manufacturers.
The new facility in Chicago will bring together industry, academia and government partners to work on cyber security training programs, developing new security modules and growing resiliency capabilities.
DoD officials see an opportunity to support improving the cyber posture of manufacturing partners to ensure security is baked in before their products make their way to the services, according to Tracy Frost, the department's director of DoD manufacturing institutes.
"Applying the best ideas from the research and startup sectors to the real-world problems of industry – from component manufacturers to prime system integrators – helps secure the supply chain and ultimately, the warfighters who rely on these capabilities to achieve their missions," Frost said.
DMDII was established in Chicago in 2014, and the new cyber hub will leverage its previous collaborations with over 25 technology manufacturing companies and 150 start-ups.
Sen. Dick Durbin (D-Ill.) was on hand at Monday's launch event and pointed to the new center's critical role in ensuring that cyber resiliency begins at the point of manufacturing before reaching DoD or federal customers.
"As the manufacturing sector becomes more intertwined with advanced technology, data, and robotics, it is increasingly important that our manufacturers are prepared to face cybersecurity threats," Durbin said. "This new cyber hub will be an extension of DMDII's innovative work of making America's manufacturing industry more competitive and secure. I was an early advocate of DMDII, I have fought for a steady stream of federal funding, and I am proud to support DMDII's focus on cybersecurity."