With new Secretary of Defense Mark Esper recusing himself from any matters involving his former employee Raytheon [RTN], the Pentagon's evaluation of the top defense contractor's impending merger with United Technologies Corp. [UTX] will be handled by two deputies, said David Norquist, the nominee for deputy secretary of defense.
Norquist, who was confirmed in 2017 as the undersecretary of defense/chief financial officer, told the Senate Armed Services Committee (SASC) July 24 that if confirmed to the role of deputy secretary of defense, he would be responsible for analyzing the proposed merger along with Ellen Lord, the undersecretary of defense for acquisition and sustainment.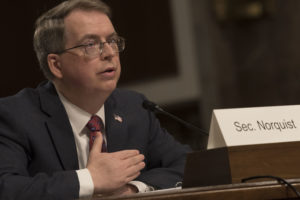 Lord's office "would take a look at the risks to the industrial base, the ability to support competition, [and] what it means to existing programs," Norquist said in response to a line of questioning from SASC member Sen. Richard Blumenthal (D-Conn.) "I don't remember at which level the decision is made, but it would be worked with Undersecretary Ellen Lord and myself."
Raytheon plans to merge with UTC's aerospace business to create a $73.6 billion defense aerospace business, the companies announced June 9 (Defense Daily, June 9). Norquist could not share details on when he and Lord would begin analyzing the merger, should he be confirmed.
Blumenthal also asked Norquist to share any concerns about the overall trend toward consolidation in the defense industry, noting, "the numbers of defense contractors has diminished very substantially over the past decade or so."
Norquist acknowledged that he has not seen all of the data that would reveal consequences of recent mergers, but said, "there are certain areas where those types of combinations can be very valuable, and in other areas where you risk using the competition."
"You want to keep an eye on it over the long term to make sure you're not putting yourself in a place where you have fewer and fewer suppliers," he added.
Blumenthal said the Raytheon-UTC merger raises "some very significant policy implications – both positive and concerns – about the effects of a consolidation trend generally." He requested that once confirmed, Norquist submit an outline to the committee as to the considerations and criteria he will study, "because I think they set an important framework for broader issues facing the defense industry."
Norquist was formally nominated to become the permanent deputy secretary of defense Tuesday, after previously performing the duties of the deputy secretary of defense since January. The Senate Armed Services Committee is expected to quickly approve his nomination for consideration on the Senate floor before the chamber leaves for August recess Aug. 2.
Esper was sworn in as the 27th secretary of defense Tuesday evening at the White House, and has pledged to recuse himself from all matters related to Raytheon during his tenure (Defense Daily, July 23).