House Republicans on Monday officially approved Rep. Ken Calvert (R-Calif.) to serve as the top defense appropriator in the new Congress.
Calvert will take helm of the House Appropriations Committee Defense Subcommittee after serving as the panel's top Republican, with Rep. Betty McCollum (D-Minn.) now set to take over the ranking member role.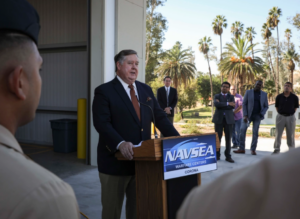 "Congress needs to be wide-eyed about the growing capabilities and aggression of nations like China and Russia. America cannot expect to lead the free world in the decades to come if we are not in the position of being the unquestioned defense superpower we have been for decades," Calvert said in a statement on Tuesday. "Our subcommittee must prioritize efforts that eliminate waste, create efficiencies, and prioritize investments in the tools that will provide the foundation for our defense for decades to come. I look forward to meeting these challenges along with Appropriations Committee Chairwoman Kay Granger (R-Texas), my fellow subcommittee members, and anyone interested in this vital task."
Granger was named the new chair of the House Appropriations Committee last week after four years as the committee's ranking member (Defense Daily, Jan. 10).
"I am thrilled to have Rep. Ken Calvert serving in the important role as chairman of the Defense Appropriations Subcommittee. Ken's tremendous experience and understanding of defense issues will enable him to work together with our subcommittee members to tackle our many national security challenges. Ken and I share the belief that we cannot shortchange our men and women in uniform, and that we must invest in the defense priorities that are required to meet a rising China and other potential threats to our security," Granger said in a statement.
Granger also announced Monday that Rep. Tom Cole (R-Okla.) will serve as HAC's vice chair and Rep. John Carter (R-Texas) will lead the Military Construction and Veterans Affairs Subcommittee.
Calvert won a tight reelection bid this November, narrowly defeating former federal prosecutor Democrat Will Rollins to secure his seat for California's newly-drawn 41st district (Defense Daily, Nov. 15 2022).
Several of the largest defense contractors' political action committees (PAC) were among the top donors to Calvert's campaign in the 2022 election cycle, according to Center for Responsive Politics' OpenSecrets.org, including General Atomics, BAE Systems, Boeing [BA], General Dynamics [GD], Huntington Ingalls Industries [HII], L3Harris Technologies [LHX], Lockheed Martin [LMT] and Northrop Grumman [NOC].
Calvert, who has served in Congress since 1993, has been a vocal proponent of increased defense spending during his time on the HAC-D panel.