The Army is now aiming to reach a "first unit equipped" milestone for its Next-Generation Squad Weapons (NGSW) and new 6.8 caliber ammunition in the second quarter of fiscal year 2024, according to the program office.
Product qualification testing with the Sig Sauer-produced NGSW Rifle and Automatic Rifle will run from this May to July, before the Army conducts an operational test ahead of fielding to the first unit.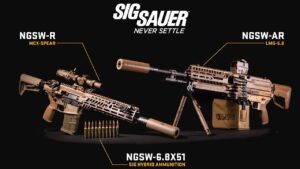 Sig Sauer won the Army's potential 10-year, $4.7 billion NGSW contract last April to deliver the new XM7 Rifle and the XM250 Automatic Rifle that will fire 6.8 caliber bullets, as the Army looks to replace the M4 rifles and M249 Squad Automatic Weapon for its close combat forces (Defense Daily, April 19).
Army officials previously told reporters an initial operational test and evaluation for NGSW was slated for the third quarter of fiscal year 2023 before a planned first unit equipped date by the end of FY '23 (Defense Daily, April 20).
The Army's FY '24 budget request, detailed this week, includes plans to invest $293 million in NGSW weapons procurement and $191 million for buying the new ammunition as well as $38 million for further research and development efforts.
The Army's Project Manager Soldier Lethality (PM SL) NGSW said it's set to accept two dozen XM7 Rifles and XM250 Automatic Rifles from Sig Sauer ahead of the upcoming testing.
"Once these deliveries are received, the Aberdeen Test Center (ATC) will conduct 31 tests including weapons reliability, immersion, cook-off, flash and blank fire performance," PM SL NGSW said in a statement. "The ATC will also test environmental conditions like extreme hot and cold, sand, dust, salt fog and mud."
Additional operational testing with NGSW is planned for FY '24 "to assess natural environments and airborne qualifications," according to PM SL NGSW.
In January, the Army noted it renamed the NGSW Automatic Rifle as the XM7 after it learned the original XM5 designation was already used by Colt Industries for one of its 5.56mm carbines (Defense Daily, Jan. 20).