The Air Force Research Laboratory is aiming to field the new prototype autonomous, unmanned combat air vehicle dubbed "Skyborg" by 2023, the service said March 27.
Air Force Assistant Secretary for Acquisition, Technology and Logistics Will Roper announced the new initiative March 15, and elaborated on the concept of having a "quarterback in the sky" that would train alongside pilots and eventually partner with attritable aircraft during a media gaggle March 17 (Defense Daily, March 17).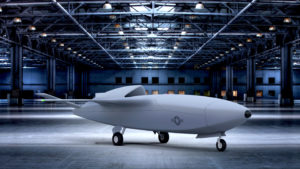 The Air Force office of Strategic Development, Planning and Experimentation (SDPE) issued a request for information to industry March 15 to conduct market research and find commercially available technologies that could meet the requirements and timeline of the Skyborg program. Responses are due April 15.
Skyborg was stood up as a fiscal year 2019-funded pathfinder program through SDPE in October 2018, said Ben Tran, the effort's program manager in a Wednesday release.
He noted that the Pentagon's near-peer adversaries are investing heavily in artificial intelligence and autonomous capabilities. "We know that when you couple autonomy and AI with systems like low-cost attritables, that can increase capability significantly and be a force multiplier for our Air Force."
The 2023 goal for early operational capability "is our attempt at bringing something to bear in a relatively quick time frame to show that we can bring that kind of capability to the fight." The new system is not currently scheduled for a specific aircraft platform, and incorporating modularity and open system architectures into Skyborg will be important, Tran said.
Matt Duquette, an AFRL Aerospace Systems Directorate engineer, called Skyborg "a vessel for AI technologies that could range from rather simple algorithms to fly the aircraft and control them in airspace to the introduction of more complicated levels of AI to accomplish certain tasks or subtasks of the mission."