The U.S. Air Force plans to launch an annual exercise in October to practice command-and-control (C2) across multiple domains, a service official said June 6.
The inaugural wargame, which will take place at Maxwell Air Force Base in Alabama, will address "some of the problems, challenges, issues associated with moving forward in terms of a multi-domain construct," according to Brig. Gen. B. Chance "Salty" Saltzman, director of current operations for the Air Force deputy chief of staff for operations.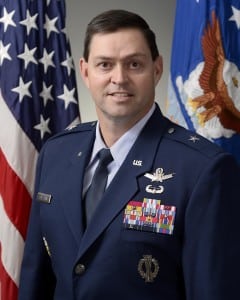 "We're just going to learn the lessons and try to apply them," said Saltzman, who spoke at the Space Computing & Connected Enterprise Resiliency Conference at MITRE Corp. in Bedford, Mass.
Air Force officials have said they will need a multi-domain approach to operate effectively in the contested environments they are increasingly likely to face in the coming years. To make multi-domain battle a reality, the Air Force is pursuing multi-domain awareness, such as the ability to integrate air, space and cyberspace sensors;  advanced battle management; and agile resilient communications (Defense Daily, Jan. 25).
Saltzman said the Air Force is setting up a "shadow network" to experiment with solving C2 challenges. The network will stitch together existing development efforts "so that we can draw enterprise conclusions on the work that they're doing and then purpose-build some experimentation that goes after those enterprise conclusions."
The Air Force is also creating a new career field or "tribe" to focus on C2 operations. Saltzman said most airmen who conduct C2 operations today do so only temporarily before returning to their main jobs, leaving the Air Force without a dedicated C2 work force that continues to build its skills.