While Air Force Chief of Staff Gen. Charles Q. Brown would not elaborate on the records set in the flight debut of the Next-Generation Air Dominance (NGAD) fighter, he said the digital design of the fighter could set an acquisition path forward for the Air Force in developing and fielding new capabilities quickly.
NGAD is a classified program but likely involves fighter industry heavyweights Lockheed Martin [LMT] and/or Boeing [BA].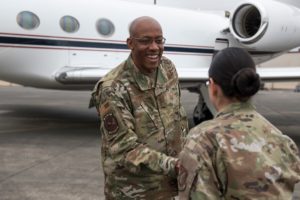 "The aspect of being able to build quickly using digital techniques, that's the key aspect," Brown said in a "State of the Air Force" discussion with Defense One. "It's not so much what we built, but how we built it. When I think about competition, the ability to go fast and be able to design very quickly using software is an aspect of what this particular program opens the aperture for."
At the Air Force Association (AFA) virtual Air, Space and Cyber Conference (vASC) last week, Air Force acquisition chief Will Roper revealed that the full scale NGAD flight demonstrator "has already flown…and it's broken a lot of records in the doing." (Defense Daily, Sept. 15).
John Venable, a senior research fellow for defense policy at the Heritage Foundation and a retired Air Force F-16 pilot, has said that the NGAD record breaking Roper mentioned "has many possible interpretations, but one of the most likely is that it has gone from concept to actual flight quicker than other demonstrators."
In her kick-off address to AFA's vASC conference on Sept. 14, U.S. Air Force Secretary Barbara Barrett named the Boeing and Saab Red Hawk training aircraft as the first system to carry the "e" prefix designating digitally engineered systems (Defense Daily, Sept. 14). The plane will now be known as the eT-7A, though the service has said that an "e" designation may go away once a program moves into production.
E-systems could range from aircraft and drones to satellites and the Ground-Based Strategic Deterrent (GBSD).
On Sept. 22, Brown affirmed the Air Force goal, set in 2018, for 386 squadrons, but he said that capabilities provided were more important than force structure numbers.