HII [HII] Newport News Shipbuilding (NNS) completed a 69-month refueling complex overhaul (RCOH) work on the USS George Washington (CVN-73) aircraft carrier and redelivered the ship to the Navy on May 25.
CVN-73 is the sixth Nimitz-class nuclear-powered aircraft carrier and is now scheduled to go back to the U.S. 7th Fleet for deployment in 2024 as the Forward-Deployed Naval Forces-Japan aircraft carrier. There it will replace the USS Ronald Reagan (CVN-76) in that forward-deployed role. CVN-76 previously relieved CVN-73 for that role in 2015.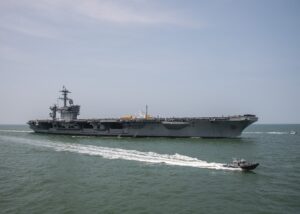 The RCOH process occurs only once during an aircraft carriers 50-year lifetime and includes refueling, upgrades, maintenance and repairs to the two nuclear reactors as well as upgrading and modernizing other ship spaces and systems like tanks, hull, shafting, propellers, rudders, piping, ventilation, electrical and combat and aviation support systems.
Sea trials following the RCOH preceded redelivery, to test that full ship systems are operating correctly. This included executing high-speed maneuvering, stressing new technology and equipment, and demonstrating all major capabilities.
"Redelivering George Washington to the Navy is the end result of incredible teamwork between our shipbuilders, the CVN 73 crew, our government partners and all of our suppliers. George Washington has gone through a transformation and now returns to the fleet as a fully recapitalized ship, ready to support any mission and serve our nation for another 25 years," said Todd West, NNS vice president, in-service aircraft carrier programs.
Rear Adm. James P. Downey, Program Executive Office Aircraft Carriers, noted this RCOH was longer than normal, in part due to challenges from the COVID-19 pandemic, supplier issues and competing resource requirements.
"This has been a challenging RCOH on many fronts, and the team executing the RCOH including the shipbuilder, GW crew, and many other suppliers and Navy commands teamed to redeliver this aircraft carrier during the pandemic by re-engineering our approach to working with suppliers and the shipyard and accelerating problem solving on the deck plates,' Downey said.
He noted CVN-73's RCOH included adding technology to accommodate the F-35C Joint Strike Fighter and improve scheduling issues in the final portions of the maintenance period.
"Over the last six months the combined shipyard, ship's force, Supervisor of Shipbuilding Newport News, Type Commander, and In-service Aircraft Carrier Program Office, PMS 312, team have produced admirable schedule adherence…rising to the challenge to redeliver George Washington to the fleet in time to transition to FDNF, bringing full fifth-generation fighter capability to dissuade our peer to peer competitors."
HII also noted the George Washington is the sixth Nimitz-class carrier to undergo RCOH at its shipyard and that an RCOH represents about 35 percent of all the maintenance and modernization across a carrier's service life.
The company said it is otherwise continuing to work on the RCOH for the USS John C. Stennis (CVN-74), with progress including installation of the main mast.