The House Armed Services Committee's (HASC) version of a fiscal 2024 defense authorization bill would put the U.S. Air Force's Collaborative Combat Aircraft (CCA) program in three cost target categories that the Air Force finds unacceptable.
"We're very opposed to those cost targets," Air Force Secretary Frank Kendall told reporters on Sept. 11 at the Air and Space Forces Association's air, space, and cyber conference at National Harbor, Md. "I don't know where those categories came from. That is not what we're doing. We've got two increments planned. We want to keep the cost down to a fraction of the F-35. We're having an open competition, looking at effectiveness analysis."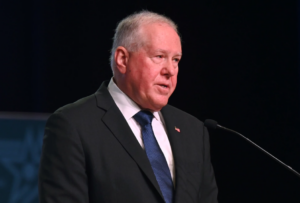 The Air Force wants "continuous competition" on CCA to aid affordability and avoid vendor lock. The Air Force is to tailor CCA initially for air-to-air to support of the Lockheed Martin [LMT] F-35 and the Next Generation Air Dominance (NGAD) manned fighter. Solicitation timelines for CCA are in the works, as is a location for the first CCA test flights.
Kendall has raised the idea of companies building 1,000 CCAs to be employed by 200 NGAD manned fighters and 300 F-35As, but within the Air Force, there is not a consensus on CCA numbers.
"When I talked about it initially, I said two to five [CCAs per manned platform] was the range," Kendall said on Sept. 11. "We'd like to have at least two. More is better. You can get more cost effectiveness if you can do more, but you've got to have technology that can allow the crewed aircraft to control that number and do it effectively. That's still an unknown. What we're trying to get industry to do is mature technology and be creative and then demonstrate to us what kind of capability they can provide and why it's cost effective."
Replicator is a "completely separate program," Kendall said, adding that CCA is funded across the future years defense program at $5 billion. "Replicator, the Deputy [Defense] Secretary [Kathleen Hicks] has indicated she has some funds at the DoD level available for that. She's indicated that the Defense Innovation Steering Group will be making selections about what systems to pursue. We have some candidates in the Air Force for that that we've put together and that we'll be offering. My conversations with the deputy suggest that some of those she looks on very positively, but we haven't resolved all that yet. I think that there's a desire to move very quickly on that [Replicator] program. I expect that her team will be working with us. We'll be members of the team, and we'll be helping her make those decisions fairly quickly, but that's a completely separate thing from what we're doing with CCA."
The 1,000 CCA target may grow. Air Force Chief of Staff Gen. Charles Q. Brown said in February that CCAs are likely not to be multi-mission, but to be specialized in missions, such as jamming, sensing, or air-to-air/air-to-ground attack, to reduce CCA unit costs.
The vast Indo-Pacific region represents "a very contested security environment and growing increasingly so by the year," Air Force acquisition chief Andrew Hunter told reporters on Sept. 11. "It definitely informs our requirements [and] shapes them, in many cases decisively. A CCA that wasn't optimized for the Indo-Pacific would be significantly less attractive to us. Having said that, we also have to be very disciplined in our requirements to move fast. We have to be disciplined. We can't get everything overnight."
Section 218(f) of the HASC fiscal 2024 bill–a section entitled NGAD Family of Systems Development Program Accountability Matrices–divides CCAs into three categories–an up to $3 million "expendable" CCA, an up to $10 million attritable CCA that can be an "occasional combat loss," and "exquisite"–a multiple sortie, up to $25 million drone "not considered an acceptable combat loss" (Defense Daily, Aug. 9).
The HASC low-end unit cost for CCA is less than half that of low-quantity buys of the $6.5 million Kratos [KTOS] XQ-58A Valkyrie, while HASC's high-end $25 million CCA is significantly lower than the $32.5 million to $76 million that the General Atomics MQ-9 Reaper cost the Air Force in fiscal 2020 to fiscal 2022.
Kendall has posited a $20 million unit cost for CCA.
The Air Force and HASC have not divulged any technical analyses that buttress the respective Air Force and HASC cost estimates for CCA.