The Office of Naval Research (ONR) awarded Textron Systems [TXT] a $21 million contract on March 8 to develop the office's Magnetic and Acoustic Generation Next Unmanned Superconducting Sweep (MAGNUSS) mine countermeasure technology project.
This follows an initial 2021 ONR notice for the MAGNUSS project that seeks to develop a future naval capability for an advanced minesweeping payload technology. At the time, ONR said it consists of a high-temperature superconducting (HTS) magnetic source with an advanced acoustic generator that could be used for the Mine Countermeasure Unmanned Surface Vehicle (MCM-USV) (Defense Daily, Aug. 13, 2021).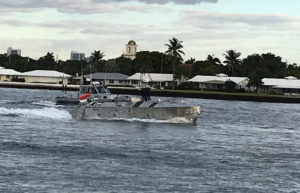 ONR also originally said it expected to execute the program from fiscal years 2022 to 2024.
The latest announcement reiterated the MAGNUSS program is an ONR-sponsored Future Naval Capability effort that aims to develop, fabricate, integrate and demonstrate the payload that will eventually transition to a Naval Sea Systems Command program to be used with the Mine Countermeasure Unmanned Surface Vehicle (MCM USV).
This work is expected to be finished by Mach 2026 in a 36-month base period. However, the contract includes an additional 12-month option that would raise the total value to $54 million.
The contract includes option periods of performance of "various lengths" that, if all exercised, could run concurrently with the base and other options, the announcement said.
Work will be split among Ayer, Mass. (47 percent); Hunt Valley, Md. (35 percent); and Groton, Conn. (18 percent).
$7 million in fiscal year 2022 research and development funds were obligated at award time and will expire at the end of this fiscal year.
The contract was competitively procured under a Long Range Broad Agency Announcement with three proposals received, but the Navy did not disclose the other competitors.
ONR's original solicitation said the advantage in using the HTS magnet is its ability to run at very high electrical currents with near-zero resistance. The office said the Navy has a strong desire for a non-towed underwater acoustic source, but since it is a real challenge, at a minimum they are working on a low-drag alternative to legacy acoustic generators.
The HTS magnet and acoustic generator will also have a modularity advantage, allowing it to be deployed on any craft of opportunity, like the MCM-USV.
The solicitation said the work is focused, in part, on how to integrate an HTS magnet and non-towed/low-draft underwater acoustic generator as a deployable single payload aboard the MCM-USV.