The deputy program manager for the Navy's unmanned maritime systems program office said the service is streamlining and quickening acquisition as the service acquisitions chief's strategy of pushing responsibilities down is working well.
Howard Berkof, deputy program manager of PMS-406, within program Executive Office (PEO) USC, told Defense Daily in an interview in late June that accelerated acquisition is having a positive effect, but it can also be called doing acquisition smarter and better.
It is not just accelerated but "doing it more efficiently and being able to tailor our acquisition requirements to meet the needs of the program."
That means if a program involves a lot of prototyping with the S&T community, the office has the flexibility to mature the program to get a better idea of what they want to achieve and when to enter a milestone C program of record.
Berkof characterized this as part of a larger Defense Department strategy to contract more efficiently with alternative contracting mechanisms like Other Transaction Authority (OTA) or multi-award indefinite delivery/indefinite quantity (IDIQ) where a number of pre-qualified industry partners then do specific task orders.
He said these kinds of strategies have allowed PMS-406 to rein in cost overruns and overcome past problems with unmanned systems. Previously, the Navy made requirements too hard to achieve, Berkoff said.
After starting a program of record and reaching the first phase of a program, the Navy would then say, "but it would be great if it went twice as far or it did, you know, this wham-a-damn thing that we've never proven before and we put them through and we can't meet that. All of a sudden cost runs [up] and everyone says, oh, you suck," Berkof said.
Now, he said they are working more efficiently.
"We're doing achievable, proven technologies and integrating them. So we're integrating mature technologies and we have achievable requirements. And we're asking industry for that feedback. We're saying, no kidding, tell us can you do this in X amount of months and can you do it within an affordable cost," he added.
That has led to a constant engagement with industry and the office has had a "tremendous amount of feedback."
PMS-406 then takes the feedback and modifies its request for proposals (RFP) "so that we ensure that we could meet the cost schedule and performance requirements that we levied."
Berkof used the example of the Orca Extra Large Unmanned Undersea Vehicle (XLUUV). The program was a response to a joint operational need and is not a program of record yet but will later transition into one.
The office was able to move fast and award the two Phase 1 design contracts on Sept 28, 2017. He said this "monumental achievement" was awarded 238 days from the approval of requirements.
NAVSEA awarded the design contracts to Lockheed Martin [LMT] and Boeing [BA], which are using designs based on the Marlin autonomous underwater vehicle and Echo Voyager, respectively (Defense Daily, Sept. 29, 2017).
Berkof said industry took notice of the speed.
That kind of speed and process is "the new norm." He said the office is taking the Orca model and implementing it across the board for all unmanned systems.
"In fact, we've codified, we are writing it down, we're briefing it to the staff, we're training our staff, we're spreading that. We're sharing that knowledge across the PEO."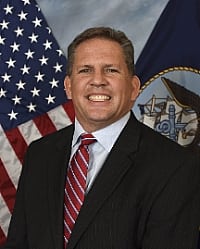 Berkof noted the Orca finished on-schedule preliminary design reviews (PDR) for both vendors in March and is executing detailed design efforts with follow-on production planned for the start of FY '19. The next step is moving to critical design review this upcoming October before moving the Phase 2 fabrication selection competition, due to be awarded in the second quarter of FY '19.
He also said the strategy of assistant Secretary of the Navy for research development and acquisition James Geurts is helping too.
In recent months, Geurts has been talking up his push to decentralize acquisition and procurement decisions, moving them to the lowest level. He is pushing for authority and accountability to start "where it belongs, at the lowest capable level" with category-two program authority pushed down to the PEO level and PEOs pushing category three and four programs down to the program manager level (Defense Daily, May 2).
Guerts has also pushed for differentiated items to allow these decisionmakers to use different tools when buying different kinds of programs.
Berkof said this is having real effects. "We are being empowered to tailor our programs and our strategies to what is needed for that particular system."
In the past, the program was burdened by applying the same policy and "the same requirements across the board no matter what, whether you were a big ship or whether you were a small, tiny system and that's just not, that's not effective. You can't field and deliver capability if you're being held down by bureaucratic means," he said.
"So Mr Geurts has been effective in getting that through to the staff such that, you know, we are not being treated the same as LCS or Frigate or DDG. We are being treated as an unmanned maritime system and scoping the requirement, the acquisition and contracting requirements appropriately."
Berkoff sees the change flowing down from Geurts to his Deputy Assistant Secretary of the Navy (DASN) – Ships, to PEO USC to the program managers.
"It's great to be able to tailor our strategies and approaches to appropriately to what we're procuring so we can do it faster and more effectively."