The Senate Appropriations Committee (SAC) has rebuffed the Trump administration's proposal to end federal funding for the International Space Station (ISS) by 2025.
In a new report explaining its fiscal year 2019 Commerce, Justice, Science appropriations bill, the committee said it supports maintaining ISS funding "beyond 2025 until a viable alternative exists to achieve NASA's objectives" in low Earth orbit (LEO).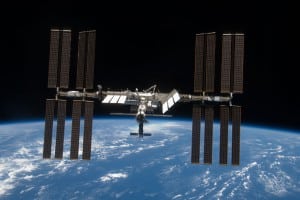 Opponents of the administration's proposal say the orbiting laboratory, whose prime contractor is Boeing [BA], provides significant research benefits and should be operated as long as possible. They also have expressed skepticism that there will be enough commercial activity to meet NASA's LEO needs in seven years, as the administration has suggested.
NASA has told Congress that the ISS could last well beyond 2028 and that much of the station could remain safe to use until well into the 2030s.
The SAC also rejected the administration's proposal to cancel the Wide-Field InfraRed Survey Telescope (WFIRST), saying the space-based observatory is a high priority for the scientific community. The committee provides $352 million to keep WFIRST on track for a 2025 launch.
In February, then-acting NASA Administrator Robert Lightfoot defended the proposed WFIRST cancellation, citing budget constraints (Defense Daily, Feb. 20). The mission is expected to cost more than $3 billion.
NASA's Goddard Space Flight Center in Maryland manages WFIRST. In May, the program awarded a $113 million contract to Ball Aerospace [BLL] to develop and build a key instrument component.
The bill, which the SAC approved June 14, contains a total of $21.3 billion for NASA, $1.43 billion above the administration's request and about $200 million less than the House version of the bill.
The Senate bill contains $4.6 billion for space operations, $2.15 billion for the Space Launch System (SLS) heavy-lift rocket, $1.35 billion for the Orion crewed capsule, $504 million to begin developing the Lunar Orbital Platform-Gateway, $304 million for the James Webb Space Telescope (JWST) and $180 million for the Restore-L satellite-servicing program. Aeronautics research would get $725 million.
For the Commerce Department's National Oceanic and Atmospheric Administration (NOAA), the bill contains $928 million, $50 million above the request, to continue building three polar-orbiting weather satellites. It provides $408 million for NOAA's Geostationary Operational Environmental Satellites (GOES).
The bill now heads to the full Senate.  A date for floor consideration has not been announced.
The House version of the bill, which the House Appropriations Committee approved in May (Defense Daily, May 16), awaits House floor consideration.
In a related matter, the House Science, Space and Technology Committee announced June 14 that its space subcommittee will hold a hearing next month on the JWST, whose May 2020 launch date is almost six years later than originally planned. Wes Bush, chief executive officer of prime contractor Northrop Grumman [NOC], is scheduled to testify.