The U.S. Senate narrowly approved Rep. Jim Bridenstine (R-Okla.) as NASA's 13th administrator April 19, ending a months-long stalemate over his controversial nomination.
The 50-49 party-line vote came a day after the Senate voted, 50-48, to limit debate on the nomination. It also came three days after Vice President Mike Pence, while speaking at the 34th Space Symposium in Colorado, urged the Senate to confirm Bridenstine.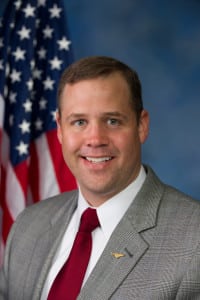 Bridenstine will replace Robert Lightfoot, who has been acting administrator for the past 15 months. Lightfoot recently announced plans to retire April 30.
Bridenstine will now be charged with implementing President Donald Trump's NASA agenda, which includes returning humans to the Moon's surface by the late 2020s (Defense Daily, Feb. 20).
"It is an honor to be confirmed by the United States Senate to serve as NASA administrator," Bridenstine said. "I look forward to working with the outstanding team at NASA to achieve the president's vision for American leadership in space."
Bridenstine will be sworn in as administrator "in the near future," NASA spokeswoman Jen Rae Wang said.
Trump originally nominated Bridenstine in September, but the congressman met resistance from senators who said he was too political and lacked the management and technical expertise needed to run NASA. However, the congressman's backers praised the Navy combat veteran for his leadership on space issues in the House, and the White House resubmitted his nomination in January. 
Bridenstine's fate improved recently when Sens. Jeff Flake (R-Ariz.) and Marco Rubio (R-Fla.) dropped their opposition.
During his House tenure, which began in 2013, Bridenstine has promoted lunar exploration, small satellites, lightweight launch vehicles, and government purchasing of commercial data and services (Defense Daily, Sept. 5, 2017).
His departure from Congress will leave vacancies on the House Armed Services Committee and the House Science, Space and Technology Committee. His replacements have not yet been announced.