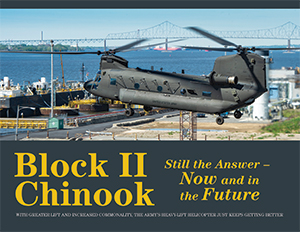 With greater lift and increased commonality, the Army's heavy-lift helicopter just keeps getting better
In September, we celebrated the 60th anniversary of the first flight of the Boeing-built Chinook — a monumental achievement for any aircraft. 
During 60 years of flight, the Chinook has logged millions of flight hours on thousands of global missions flown by generations of the best pilots in the world. It's made countless life-saving missions possible, both on the battlefield and supporting humanitarian operations. It's resulted in unmatched reliability and versatility for the 19 countries who are part of Team Chinook. All of this was made possible because of one remarkable aircraft.