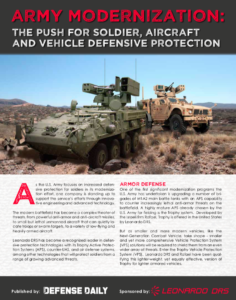 The modern battlefield has become a complex theater of threats, from powerful anti-armor and anti-aircraft missiles, to small but lethal unmanned aircraft that can quietly locate troops or swarm targets, to a variety of low-flying and heavily armed aircraft.
Leonardo DRS has become a recognized leader in defensive protection technologies with its Trophy Active Protection Systems (APS), counter-UAS, and air defense systems, among other technologies that will protect soldiers from a range of growing advanced threats.
Find out more details in this fascinating new report, Army Modernization: The Push for Soldier, Aircraft and Vehicle Defensive Protection
Download your free copy today!

Brought to you by: