The manager of the Navy's DDG-51 program said last week the Raytheon [RTN] AN/SPY-6 Air and Missile Defense Radars (AMDR) going on new Block III Arleigh Burke-class destroyers are proceeding well in testing.
Capt. Casey Moton, the DDG-51 class program manager, said at the annual Surface Navy Association symposium on Jan. 16 that testing on the SPY-6 radar has gone "very well" and the system has successfully performed in 14 ballistic missile defense tracking engagements so far.
The system has one more similar test planned, but the Navy is feeling "very confident" about the system and program overall, Moton said.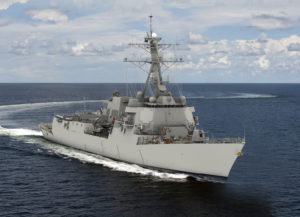 Flight III ships will be a bit larger than the previous Flight IIA destroyers to fit both the new more powerful SPY-6 radar as well as to accommodate its power and cooling requirements. The newer ships will also feature the upcoming Lockheed Martin [LMT] Baseline 10 Aegis Combat System.
The improved radar should help DDG-51s detect and engage a wider range of air and missile threats at longer ranges and with greater sensitivity.
DDG-51 ships are built by both Huntington Ingalls Industries [HII] and General Dynamics [GD] Bath Iron Works (BIW).
The first Flight III DDG-51 will be the future USS Jack H. Lucas (DDG-125), which is about seven percent finished and under production by Huntington Ingalls Industries. Production began in May 2018. DDG-125 is set for delivery in FY 2023. The first Flight III for BIW will be the future USS Louis H. Wilson Jr. (DDG-126).
Moton noted the overall program is on a good track after awarding FY 2018 – 2022 multi-year procurement contracts in September: four for GD BIW and six for HII. GD 's contract is worth $3.9 billion while HII's is valued at $5.1 billion — both are for Flight III vessels (Defense Daily. Sept. 28).
Of the 22 DDG-51s currently on contract, 13 are Flight III if you count the multi-year procurement contracts in addition to earlier initial Flight III destroyer ones. The shipyards have established serial DDG-51 production for the 22 ships on contract through FY 2022, Moton noted.
He was also pleased that as of January all of the FY 2019 ships in his program's purview have been awarded.
Separately, Moton dismissed any concerns about schedule and program risk in the Flight III destroyers at this stage, noting "we have very solid plans to deal with it."