Northrop Grumman [NOC] successfully tested the AQS-24B minehunting sonar off the coast of Florida at double its last tested depth, over 400 feet, the company said.
For the test, the AQS-24B was embarked on the M/V Richard Becker
, a civilian offshore supply/towing vessel, off the coast of Ft. Lauderdale Fla. The company said the system's sonar performed well at all tested depths and used its sensors to classify bottom objects of interest. The test was an internal company development effort.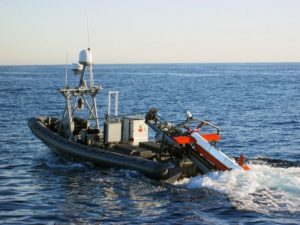 The company has multiple versions of the AQS-24 to provide mine hunting capabilities for navies. The AQS-24B is a deployed system with side scan sonar for real-time detection, localization, and classification of bottom and moored mines plus it uses a laser line scanner for precision optical identification of underwater mines.
This year the company delivered the first two systems of the AQS-24C model to the Navy, which upgrades the 24B by adding in-stride volume search capability. The 24C can be deployed from either an MH-53E Sea Dragon helicopter or the mine hunting unmanned surface vehicle (MHU USV) (Defense Daily, Feb. 7).
Alan Lytle, vice president of undersea systems at Northrop Grumman explained "the AQS-24 minehunting system performed superbly at tow depths up to and beyond 400 feet."
"This latest internal research and development effort underscores our commitment to provide the most innovative, affordable and operationally-proven capabilities to meet the Navy's Littoral Combat Ship (LCS) Mine Countermeasures Mission (MCM) package requirements and future expeditionary MCM needs," he added.
The company noted earlier this year it demonstrated an "autonomy upgrade path" for the AQS-24's minehunting system by integrating and testing the Northrop Grumman image exploitation suite. This incorporated machine learning for automatic target recognition (ATR) using multiple ATR algorithms.
The company said after successfully testing the autonomy capability the Navy plans to incorporate it into existing AQS-24 systems.
Northrop Grumman added the success of this "Deep Tow" test was followed by recently begun in-water testing of the AQS-24 on the Navy's MCM unmanned surface vessel (USV) at Naval Surface Warfare Center Panama City, Fla.
The MCM USV tests are ahead of planned user operated evaluation system testing of the AQS-24 on Littoral Combat Ships in 2020. "The AQS-24's newly doubled depth capability is planned for integration and test with the MCM USV system," the company said.
The Navy plans to use the AQS-24 along with Raytheon's [RTN] AQS-20 mine hunting sonar as the backbone of the LCS Mine Countermeasures mission package, towed by the Textron [TXT] Common Unmanned Surface Vehicle (CUSV). The CUSV in turn will be deployed by an LCS.