The Northrop Grumman [NOC] MQ-4C Triton unmanned aerial vehicle reached a Navy declaration of initial operating capability (IOC) on Aug. 3 and the aircraft are back in Guam for another deployment, the service and the company said last week.
The Navy uses these aircraft for high-altitude, long-endurance maritime intelligence, surveillance and reconnaissance (ISR) missions that it says will complement the P-8A Poseidon. The first aircraft have and will continue to be used as part of Unmanned Patrol Squadron (VUP) 19, based at Andersen Air Force Base, Guam, since January 2020.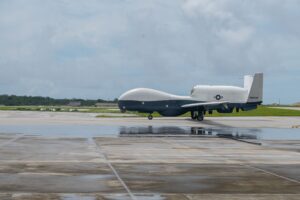 VUP-19 finished the first rotational deployment to the 7th Fleet area of responsibility in October 2022, after operating for over two and a half years. VUP-19 is set to keep operating and maintaining MQ-4Cs in Guam as part of the IOC and is now set for a second deployment after the aircraft arrived back at Andersen.
Northrop Grumman has delivered five Tritons thus far, with the most recent airframe delivered in June.
The Navy plans to deploy the MQ-4Cs in three pathways in global deployments, called orbits, to aid in improved maritime awareness. These first five Tritons will support the first and second orbits.
Previously, the Triton reached Early Operational Capability in May 2020.
The Triton has an operating altitude over 50,000 feet and can fly for up to 24 hours with long-range sensors that help the Navy detect, classify and track maritime targets outside the detection of opponent ships and surface-to-air missiles, the company said. Northrop Grumman said the aircraft can survey up to four million nautical miles in a single 24-hour mission.
"Triton has proven to be invaluable for the maritime patrol and reconnaissance mission in the Indo-Pacific. Now that the system has achieved initial operating capability, commanders will be able to fully leverage Triton's powerful sensor suite to detect and deter potential adversaries around the world," Rho Cauley Bruner, director of the Triton program at Northrop Grumman, said in a statement.
Naval Air Forces Command in a statement disclosed that the MQ-4Cs received "significant updates including an upgraded sensor suite" after the service and company compiled lessons learned from the initial Guam deployment.
The @USNavy's MQ-4C Triton unmanned aircraft systems (UAS), as part of the "Big Red" of VUP-19, arrived on @36FSS, for its 2nd deployment in the Pacific theater.

Please visit: https://t.co/qry0FEOmlf@USPacificFleet, @COMNAVAIRLANT11, @NAE_Readiness, @US3rdFleet, @CNATRA pic.twitter.com/RnSKka4Gk0

— flynavy (@flynavy) September 14, 2023
The Navy said these improvements increase the aircraft's ability to provide a persistent maritime ISR and target (MISR-T) capability alongside the P-8A "as a key component of the Navy's Maritime Patrol and Reconnaissance Force (MPRF) Family of Systems (FoS)."
The service said this means the aircraft can now extend the maritime domain awareness for the U.S. and regional partners but did not disclose and specific figures or values for improvements to the system.
Capt. Josh Guerre, MQ-4C Triton program manager, said in a statement that after operating Triton for years out of Guam, "now we have expanded this platform's capabilities far beyond those it started with."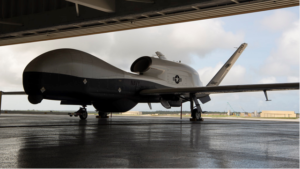 Bruner told Defense Daily in a statement that the company is working with the Navy to continue developing advanced capabilities insertion and mission expansion for the Triton to "to keep pace with the threat and ensure Triton leads in a seamlessly connected fleet for information dominance."
Bruner underscored the company has been using a manned Gulfstream IV surrogate aircraft as the Triton Flying Test Bed to research, develop, integrate, and demonstrate technologies to meet the Navy's current and future ISR&T requirements.
"Putting Triton test systems on a manned platform enables rapid integration, demonstrations, and tests of new and emerging capabilities to keep pace with the evolving threat," he told Defense Daily.
The Triton surrogate started operating in September 2019 and has flown 45 times to demonstrate capabilities for the Navy's Persistent Maritime Unmanned Aircraft Systems program office, PMA-262; the Navy Undersea Warfighting Development Center; the Office of Naval Research; and the DoD System Capabilities office. Bruner said these demonstrations included supporting test exercises as a mock Triton, most recently used at the Northern Edge 2023 exercise around the Gulf of Alaska.
Rear Adm. Adam Kijek, Commander, Patrol and Reconnaissance Group, said this second MQ-4C deployment will be an opportunity to further refine Triton tactics, techniques and procedures with 24-hour MISR-T operations.
"Leveraging all the lessons we learned from our first deployment to Guam, Triton is poised to bring significant improvements that will increase its effectiveness in the battlespace, enabling our manned-unmanned team to maintain awareness in the maritime domain," he said.
Relatedly, the company is also producing Tritons for Australia, with the first Australian-bound MQ-4C scheduled to have its first flight later this year.
"We anxiously anticipate the announcement of additional aircraft that will enhance the resilience of the fleet and provide superior surveillance capability to monitor and protect Australia's maritime interests 24/7," Bruner told Defense Daily in a statement.
Northrop Grumman unveiled the first Australian MQ-4C a year ago, after starting production in October 2020. The company plans to complete initial production in 2023 and deliver the aircraft next year (Defense Daily, Sept. 16, 2022).
The Navy's fiscal year 2024 budget request documents sought $416 million to procure two more Low Rate Initial Production MQ-4Cs and one main operating base mission control system in increment 1 configuration. However, it revealed the service has significantly downgraded its goals for the MQ-4C.
Notably, while the Navy previously planned to procure up to 70 aircraft, budget documents said a reassessment by the Joint Requirements Oversight Council (JROC) modified the Triton Capability Development Document to downgrade the total inventory requirements to only 27 airframes.
"This reduction established a new total Program of Record (POR) UA quantity from 70 to 27. The total number of aircraft are attributed to the program as 22 production, and 5 development (includes 1 test asset, 1 stricken UA and 25 fleet assets)," the Navy's budget request said.
Under these new numbers, MQ-4C production for the U.S. is expected to only last through FY 2028. The Navy documents noted this cut in the procurement numbers is reflected in increasing aircraft unit costs from FY 2023 to 2024.