The Navy's five Orca Extra Large Unmanned Undersea Vehicles (XLUUVs) are planned to carry a large payload module once it is active and the service is also buying a sixth vessel for testing, an official said last week.
Speaking at the 15th International Mine Technology Symposium on May 25, Capt. Scot Searles, program manager for Unmanned Maritime Systems (PMS 406), said the Orca will have a 34-foot payload module readied after vessel testing is completed.
Since 2019,
Boeing [BA] has been under contract to build five 54-inch diameter Orca XLUUVs for $274 million to support the Navy's mine countermeasures, anti-submarine warfare, and intelligence, surveillance and reconnaissance missions. At this size, the vessel is planned to be launched from piers rather than Navy ships or submarines (Defense Daily, April 1, 2019).
The Orca is based on the Echo Voyager UUV. In 2017, Boeing said it is working with HII [HII] on the XLUUV program (Defense Daily, June 8, 2017).
In April, the Navy christened and began the first in-water test for the first Orca test asset system at Huntington Beach, Calif.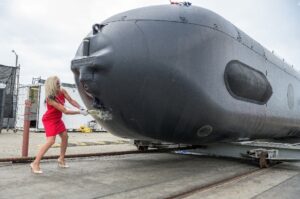 "So Orca, just last month, did the wet test…but getting that large unmanned diesel submarine put together and then putting it in the water is a big deal," Searles said.
He noted they are progressing in getting the first vessel ready for testing later this summer.
"An important step in the development of the program, to be able to have the components together, do a fit check and then do an in water check. We'll continue populating the hull and be able to do in-water testing later this summer. All driving program maturity forward."
Searles also noted the Navy decided to add another engineering development model (EDM) for testing, so the program will have six vessels overall.
"We've decided to add another EDM into that program as well. We're calling it XLE-0, but it's a risk reduction asset that in addition to the five articles that we'll deliver to the fleet will also have that test asset as well."
Searles underscored the Orca program is progressing faster than most first in their class vessels.
"If you look at Orca, it is a 80-ton unmanned diesel submarine, a diesel submarine first of class. That capability is going to deliver in less than five years to the fleet. There is no first class ship out there, that's going from concept to requirements development to fielding in that kind of timeline."
He argued this timeline is possible because of close collaboration and communication between the science and technology community, academia, industry, and within the Navy on what the different elements are working on, what they view as the most important factors, and how to build an incremental capability in the short term.
"I think it's the approach that we're taking here in the [program executive office] to incrementally develop capability in close concert with industry and academia that's allowing us to do things that are vastly outpacing the rest of the acquisition world," Searles said.