Navy officials told Congress last week the Navy is trying to procure FFG(X) future frigates faster than currently planned and, as the service's new force structure assessment plans over 355 ships, it may include more frigates than previous assessments.
Acting Secretary of the Navy Thomas Modly told the Senate Armed Services Committee on March 5 the Navy's frigate plan is to award the contract sometime in the latter half of this fiscal year, but "I've asked Secretary Geurts to look at possibly pulling that forward if everything's done properly and everything is thoroughly vetted and evaluated."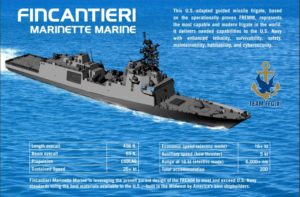 "So he is looking into that. So there is some possibility we may pull that award a little bit sooner" than planned in the fiscal year 2021 budget documents schedule, Modly added.
The FY '21 budget request expects procuring only nine frigates over the Future Years Defense Program (FYDP), rather than the 10 previously expected in the FY 202 budget request.
When asked if the lower procurement over the FYDP affects total procurement or just a shifting in the timeline Modly said the total block buy of frigates has not changed but the pace and total number of vessels is part of the discussion of the new Integrated Naval Force Structure Assessment (INFSA).
"Based on current plans and current thinking this is where we are, but I anticipate, as we look at this in more depth and the Secretary of Defense can get comfortable with it, we're going to look at ways to possibly purchase more of these over time…But right now that's where we are in terms of thinking."
The Navy's FY 2021 budget request pushed back the FFG(X) schedule compared to the previous year's plan. In the FY '20 budget documents the Navy planned to buy one in FY '20 followed by two per year from FY '21-25 to reach the first 10.
However, the latest budget request plans for one more in FY '21 and FY '22 each, then two in FY '23 and FY '24 each, then three in FY '25, to achieve the same total 10 vessels (Defense Daily, Feb. 11).
While testifying before the House Armed Services Seapower Subcommittee on March 4, Assistant Secretary of the Navy Research Development and Acquisition James Geurts said the Navy is focused on finishing the frigate process right, but it will look for ways to accelerate production if it performs as expected.
When pressed by Rep. Mike Gallagher (R-Wis.) if the frigates will be produced in high enough numbers to require production in two yards, Geurts hinted that is a possibility.
"So our priority right now on frigate is to do the down-selection credibly, fairly, and with great confidence and get that ship – whichever one's selected – built and in the fleet as soon as possible. My guess is once we get that ship in the fleet, that ship will be in high demand and we will look for ways to accelerate it and more than likely build more of it–that's a guess."
Geurts said the Navy's priority is executing source selection, picking the right ship, executing the lead ship well, then getting into serial production.
"From there I foresee a lot of different branches and sequels in terms of how many…there's no architecture I've seen where frigate isn't a major piece of it," Geurts added.
The Navy previously said it expects to award the detail design and construction contract for up to 10 FFG(X) frigates by July 2020. The 2016 Force Structure Assessment recommended a force of 52 small surface combatants, which the Navy said 20 would be frigates after over 30 Littoral Combat Ships (LCSs) were completed.
The LCS are built in two models–the Independence-variant built by Austal USA in Mobile, Ala., and the Freedom-variant managed by prime contractor Lockheed Martin [LMT] and produced by Fincantieri Marinette Marine. The Freedom-variant is produced in Gallagher's district.
Four companies are competing for the frigate award: Austal USA, Huntington Ingalls Industries [HII], Fincantieri Marinette Marine, and General Dynamics' Bath Iron Works [GD].