The Naval Air Warfare Center Aircraft Division (NAWCAD) has awarded PteroDynamics a contract to supply three of its vertical takeoff and landing (VTOL) drones for its Blue Water Maritime Logistics UAS program, the company said in an Aug. 23 release.
In November 2020, NAWCAD acquired a drone for long-range naval ship-to-ship and ship-to-shore cargo transport nicknamed the Blue Water Maritime Logistics UAS. The drone was made by Skyways and was modified to meet requirements set by Military Sealift and Fleet Forces Command, according to a Navy press release. This project was started in 2019 when an analysis found that 90 percent of critical repair cargo delivered by helicopters at sea weighed less than 50 pounds.
"Using unmanned, autonomous aircraft for delivery of these critical payloads is an important capability for the Navy to have," Blue Water's project lead Bill Macchione said in a statement. "The innovative design of PteroDynamics offers significant potential for both military and civilian missions."
The drone PteroDynamics will be supplying the Navy with has a Transwing design with wings that fold when the aircraft transitions from lift to forward flight. This allows the aircraft to function as a rotorcraft and fixed-wing aircraft. In the November 2020 release from the Navy, Macchione said they were exploring the possibility of aircraft with folding wings.
The drone will use common off-the-shelf batteries and is able to carry 15 pounds of payload for at least 50 nm, Kayla Jones, special projects analyst at PteroDynamics, told Defense Daily via email.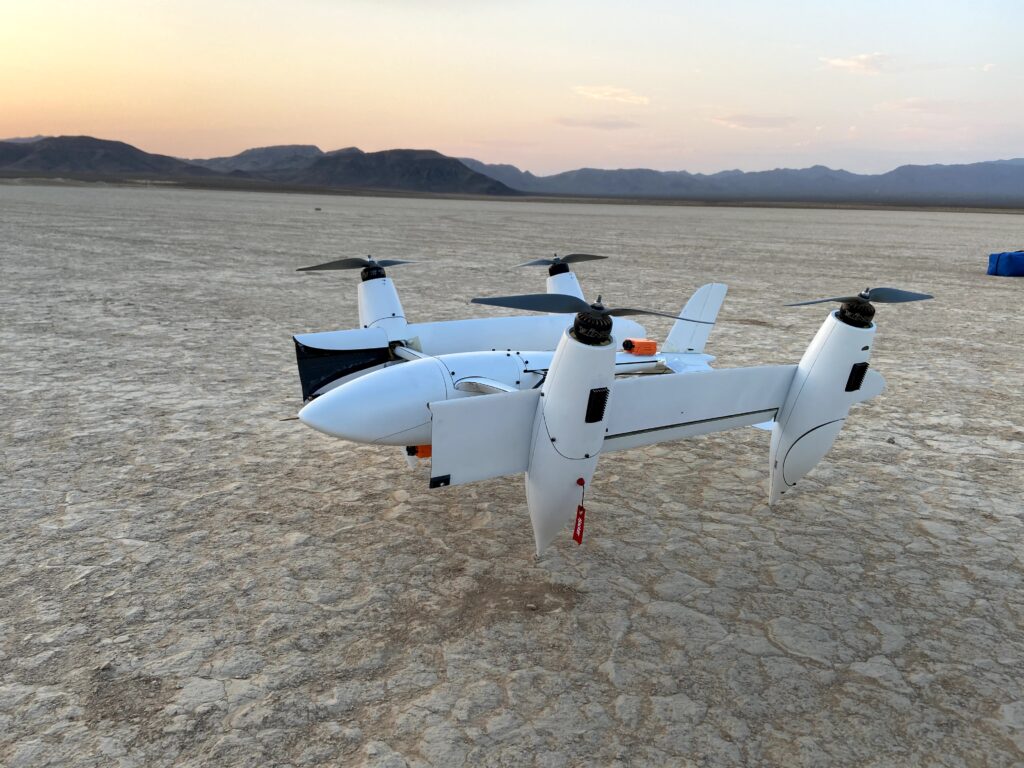 "This is an exciting milestone for our distinctive VTOL aircraft," Val Petrov, PteroDynamics' founder and CTO, said in a statement. "Our design is well suited for operations on ships where windy conditions and tight spaces challenge other VTOL aircraft during takeoffs and landings."
Jones said PteroDynamics will continue testing with the Navy in June 2022 after the three aircraft are delivered.
"PteroDynamics hopes to move forward with the Navy after this project to a larger, hybrid-electric variant of this Transwing cargo VTOL design that would have a max MTOW of 320 lb (145 kg) able to carry payloads up to 50 lb (23 kg) over significantly longer ranges," Jones said.