NATIONAL HARBOR, Md.–L3 Technologies [LLL] on Monday introduced the newest generation of its Iver family of autonomous underwater vehicles (AUVs), the Iver4-PW, which more than doubles the range of the existing systems while adding more capability.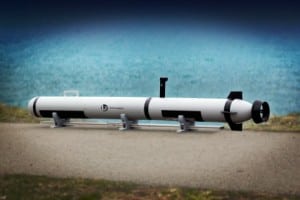 L3 is planning to offer multiple variants of the Iver4-PW, which can range at least 40 nautical miles or 100 nautical miles depending on the battery type. Those ranges are with the sensors turned on but when the sensors are programmed to turn on only for certain times the endurance of the vehicle increases.
The shorter-range variant features a nickel-metal hydride battery and the longer-range one a lithium-ion battery.
L3 displayed the Iver4-PW at the Navy League's Sea-Air-Space conference outside of Washington, D.C. 
The Iver4 comes from L3's OceanServer business unit, which L3 acquired last year as part of a push into the AUV space.
"L3 is making strategic investments in advanced C6ISR capabilities that position us as a prime integrator in the emerging undersea market," Christopher Kubasik, L3's president and CEO, said in a statement. "Iver PW offers a broad range of innovative technologies to our U.S. Navy and international customers to aid in executing their missions."
L3 has sold around 200 of its Iver2 system, which is not longer being built. The follow-on system, the Iver3-580, has more than 130 units sold. Depending on the configuration, the Iver 3 weighs between 65 and 70 pounds while the Iver4 weighs around 200 pounds.
L3 said the Iver4 can perform a range of missions, including intelligence, surveillance and reconnaissance, anti-submarine warfare, mine countermeasures, seabed warfare, seafloor mapping, water quality and research. The vehicle can operate at depths of 300 meters.
The Iver4 features modularity and is sensor agnostic. The vehicle's front and back halves are separate pieces of the system and can be swapped out, even in wet conditions, depending on mission requirements.
The AUV includes an extended-range doppler velocity log, side-scan and bathymetric sonar.
In addition to the OceanServer acquisition, L3 last year acquired Open Water Power, Inc., a small firm focused on safe and high-energy-density undersea power generation for unmanned underwater vehicles.