The Defense Information Systems Agency (DISA) is readying several new contract programs in the coming months, including two multi-billion dollar projects for commercial cloud capabilities and streamlined information engineering services, as it looks to deliver improved solutions for Pentagon network mobility and defense.
Vice Adm. Nancy Norton, DISA's new director, told attendees at an AFCEA conference in Baltimore that her agency is planning to deliver the final Request for Proposals for its $7.8 million dollar Defense Enterprise Office Solution (DEOS) cloud project in the fourth quarter of FY '18 and award the first full & open contracts and small business suites for its $7.5 billion Systems Engineering Technology Innovation contract vehicle in late May.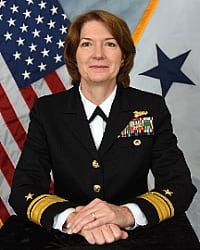 "DISA is delivering solutions, lots of them," Norton said during her keynote address at the AFCEA Defensive Cyber Operations Symposium. "DISA needs the best ideas, products and services industry has to offer to support our warfighters. We want partners with innovative solutions that surpass current technology with a focus on mission effectiveness, cyber security and mobility."
The DEOS contract would bring together the Pentagon's enterprise communications services under one commercial capability, and eventually extend to mission-critical operations.
DEOS services would work on DoD's unclassified network and its Secret Internet Protocol Router Network (SIPRNet).
Norton said DISA received over a hundred industry comments on the initial DEOS draft RFP, released in April. The contract is similar to DoD's slightly larger JEDI cloud contract, which has received some pushback for its single-award contract structure (Defense Daily, April 24).
DISA is also looking to deliver the first round of contracts under its $7.5 billion SETI contract vehicle as a means to drive innovation for future mission requirements and streamline its overall acquisition process, according to Norton.
The new contract vehicles are moving DISA towards innovation goals focused on improving mobility of warfighter IT services and efficiency of DoD network services, according to Norton.
SETI would allow DISA more flexibility to partner with smaller defense industry partners to meet Norton's goal of "near-term, agile" solutions. DISA officials are currently working on an "Innovative Contracting Playbook" for SETI, according to an agency post on FedBizOpps.
"[With SETI] we're not starting from the beginning of a procurement process to deliver those new solutions two years from now," Norton said.
To meet new authentication needs for mobile devices, DISA is preparing the first prototypes to test assured identity capabilities. The first devices will be delivered this summer, with 75 devices expected this fall after initial testing.
Norton also said her agency is looking to blockchain technology to meet capability needs for future command & control efforts.
"Blockchain represents a framework that will usher in a new era of transparency and interconnectivity among organizations where authority and control is decentralized and decisions are made by consensus," Norton said. "DISA is exploring the information of this technology for the DoD as a possible new capability for the future."
DISA is also furthering DoD's electromagnetic spectrum (EMS) research & development efforts with a new portfolio management plan to more rapidly introduce industry capabilities.
"The superiority there is clearly a warfighting imperative. The EMS is an integral part of the innovation battlespace, and comprehensive understanding of all of our EMS activity is essential given the requirements for increased battle tempo, agile operations, coordination, training and surgical targeting in population-dense and highly complex environments," Norton said.
DISA also plans to award the five-year, $350 million small business suite for its Encore III IT services contract in May.
The agency's $17.5 billion full & open Encore III suite was made ready for DoD use in March (Defense Daily, March 16).